The world of art and craft is much faster than you can imagine, and in this vast world, there is no limit and bound to create things using various kinds of materials. Using clay for crafting sculptures and pottery is popular since Prehistoric times. Making pottery using clay is one of the best and most eco-friendly ways to make non-toxic and environment-safe essential goods. The art of pottery needs skillful hands and quality materials to get prepared.
The sole material of pottery is obviously clay and a good work of pottery demands quality clay. There are various kinds of clays that come in handy for potteries. But here, we are going to talk about the best air-drying clay, which is going to be undoubtedly the clay product for pottery crafts. Before proceeding to which kind of air-dry clay we should use for potteries, let's know what actually air-drying clay is.
Why is it called air-drying clay?
Air-drying clay is a kind of clay that is used, especially for craftwork. What makes this clay special is that it does not require to be burned in a kiln or heated in an oven, unlike traditional clays and polymer clays. Rather, these kinds of clays are meant to be dried up or hardened at room temperature. Once it gets dried up, it can be painted or decorated in various patterns and textures.
Things you need to know about air-drying clay:
Air-drying clay is basically good for the hand-building technique of sculpting, coiling, slab construction, pinching, scoring, and welding. As this kind of clay hardens at normal room temperature, there is no requirement of firing or heating it in a kiln or oven. But sometimes it takes more than a week for air-drying pottery clay to dry up completely in the air.
Sculptures or models made out of air-drying clay allow the sculptor to use various armatures. As the sculpture or model is not going into the oven or kiln, there are no chances of melting or burning the armature.
Though air-drying clays are prone to being fragile, using equipment like pipe cleaners, wire, or dowel rods for making sculptures or figurines will reduce the chances of breakage of the models.
Air-drying clay is a very good option for the manufacturing of utensils like mugs, plates, bowls, and glasses. However, unlike other kinds of clays, air-drying clays are not safe for eating or drinking purposes. So, you can't use them for eating food; the crafts made up of this clay should be used for decoration purposes only. It's good for encouraging aesthetic or creative designs, but not for use as a utensil.
Experimenting with air-drying clay can be done by combining more than one type of clay. For example, it can be a good option to combine paper clay and air-drying clay to get outstanding results.
There is no restriction in using mixed media components with air-drying clay. As there is no need to fire or heat it, there is no risk of burning or shrinking the mixed media pieces. So, creators can feel free to use different kinds of accessories while working with air-drying clay.
Air-drying clay allows you to experiment with different types of colors. To experiment with colors, you can use various colored acrylic paints, markers, watercolors, colored pencils, ink, tempera paint, etc. But special attention should be given while using a particular medium of color. For example, too much usage of watercolor may cause cracking of the tile.
Best air-drying clay to use for pottery, also available on Amazon
While using air-drying clays for working on a project, you need to be sure about the quality of the clay. Basically, the texture and sculpting experience depends on the quality of the air-drying clay. You must give special attention to the water consumption and absorption quality of the clay, as sometimes over-absorption of water makes the clay slippery enough to work with.
Here are some suggestions for the best-quality air-drying pottery clays that you can use for your crafting:
1. Mexican Pottery Clay:
Manufactured in the United States, Mexican pottery clay can be the best air-drying clay option for you to choose from. This clay is good and highly recommended for decorative purposes. Also, it is a high-quality clay that ensures the durability of your creation.
This non-toxic clay acquires a perfect amount of consistency after the addition of water. It ensures the non-slipperiness of the clay, which makes it easy to shape and sculpt. The self-hardening formula of the clay makes sure that the clay dries within a day or two. But you should keep in mind that this is not regular Terra Cotta clay; it is plasticine.
The product becomes pretty durable if it is made moist enough. After the pottery gets dried up, you can paint it the way you want. But make sure you're not using too much water while coloring it. Here are the pros and cons of this product that you should know before buying it.
Pros: 
The product is not too sticky, which makes it easy to work with this clay.

The texture of the clay is quite soft and pliable.
Cons:
The product made out of this clay becomes fragile if it's not moist enough. It's good for making ornaments or small decorative things, but not so good for pots.

It isn't waterproof, even after drying.
Want to buy this product for your next sculpting project? Click here to buy your set of air-drying clay.
2. Activa Self-Hardening Clay:
This clay comes in a very affordable price range. This premium quality self-hardening clay makes it easy to dry and gets dried up within a day. This product has the perfect quality that gives it a plasticity texture, which is of an ultra-fine grade that makes it ideal for crafting versatile and excellent details of work.
The product may suffer minimal shrinkage, but it ensures excellent durability and strength. With proper usage of water, you can shape it in the way you want. It is not-so-slippery and not-so-sticky, which makes it easier and fuss-free for you to work. And of course, the natural drying ability ensures hassle-free sculpting.
Let's consider the pros and cons of using this product before buying it.
Pros: 
This particular clay is easy to work with and results in a very nice texture after drying.

The white texture of the clay allows you to color or design it as per your choice.
Cons: 
The clay is prone to cracks and shrinkage after drying.

Dry acrylic paint can come away if the poly-coat cover is not used beforehand.
Using this clay can be very useful for you as it's good for forming creative and playful designs. Click here to buy your pack.
3. Jovi Air-Drying Modelling Clay: 
Made in Spain, this clay is an absolute stunner when it comes to the creation of beautiful and detailed sculptures. With the perfect consistency, this clay is non-toxic, gluten-free, and CPSIA-certified which proves its excellent quality.
This soft air-hardening clay is workable enough and hardens within 24 hours naturally. The fine texture ensures its non-sticky formula, and it doesn't stain like other traditional clays, rather it's very easy to work with. The soft, pliable consistency gives you an enjoyable sculpting experience while working with it; you can shape and mold it the way you want.
After 24 hours of hardening, you can color it with colors of your choice. Also, you can polish it, varnish it, cut it out, or design it in whatever way you want. Before buying it, let's have a look at the pros and cons of this pottery clay.
Pros: 
It creates a little amount of mess as it is fuss-free.

Dries up quite faster so that you don't have to wait for a long time.
Cons: 
Products made of this clay are prone to breakage, or quite fragile in terms of heavy usage.

The clay is not waterproof, so while using water on it, you have to be careful enough.
Opting for this product to kick-start the inner sculptor inside you is a good idea. Also, it is safe for kids to use. You can buy Jovi air-dry modeling clay here.
4. Crayola Air-Dry Clay: 
This extra-large box of modeling clay is perfect for your various creative projects. If your kids have a knack for creating playful sculptures with clay, then this product is perfect for them. The soft and pliable texture of the clay feels good to those little hands.
Also, it is non-toxic and 100% safe for use. Unlike traditional clays, it has a smooth and fine consistency that is less sticky and doesn't stain. Being an air-dry clay, there is no requirement to pass it into the kiln or oven; it hardens naturally within 24 hours if left at normal room temperature. Have a glance at the pros and cons of this clay before purchasing it:
Pros: 
Hardens faster than other clays. You can embellish it the way you want by using various coloring mediums.

The smooth and fine texture allows you to sculpt and design it in any shape with extreme details.
Cons:
The product may be a bit fragile or bear cracks after hardening.

The clay is not waterproof.
Give your kids a better material to work with, and allow them to gear up their inner creativity through sculpting. To buy your product, click here.
Before buying any of the above-mentioned products, you should compare all of them and choose the right one based on your needs and requirements. Here is a comparison chart for your better understanding of which clay to choose.
Feature
Product names
 
Mexican Pottery Clay
Activa Self-Hardening Clay
Jovi Air-Drying Modelling Clay
Crayola Air-Dry Clay
 
Shipping weight
5.5 pounds
2.5 pounds
1.1 pounds
27.4 pounds
 
Color
Red
White
Grey
White

 

Price
$12
$6
$8
$29
 
Required tools for using pottery clay: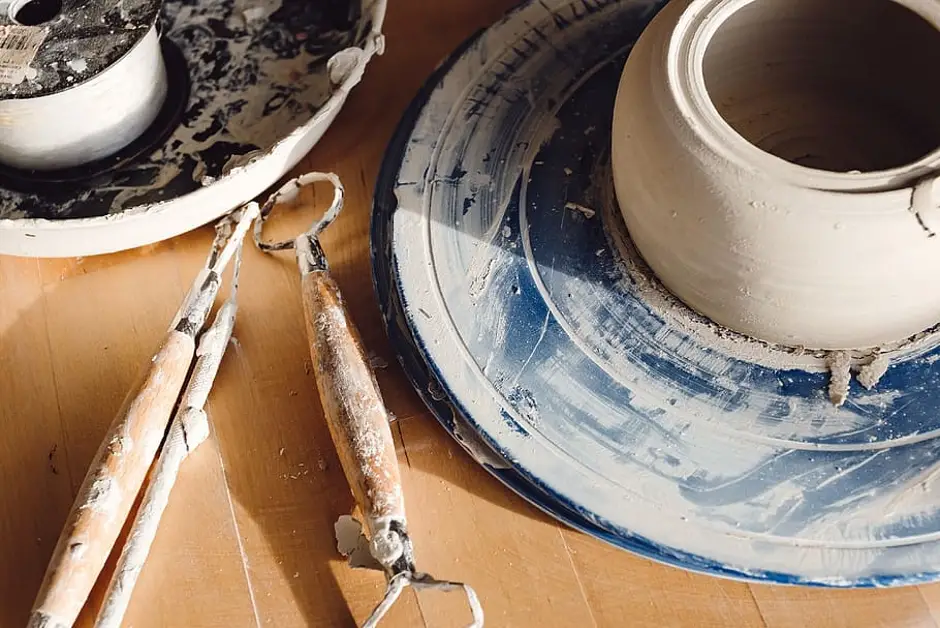 When it comes to the matter of shaping and designing the hardened or dried clays, hands are not enough to bring out the details on your piece of artwork. For that, you'll need various tools to achieve the perfect shaping, carving, cutting, or scraping. Without adding these effects, your sculpture won't look complete, and also adding minute details makes it look more realistic and flawless. So, using the required tools is important to achieve the best finishing touch and real look of your artwork.
You can use the U.S. Art Supply 53 Piece Pottery & Clay Sculpting Tool Set with Hard Plastic Storage Box as one of your pottery tools. It is one of the best pottery and clay sculpting tools to achieve the aesthetic look in your creation. Also, you can opt for the Blisstime Set of 30 Clay Sculpting Tool Wooden Handle Pottery Carving Tool Kit, which will provide you with endless opportunities to sculpt the way you want.
Conclusion:
Using the best quality air-drying pottery clay for your project not only gives it the best finish and aesthetic look but also provides you with the best experience of sculpting along with the assurance of durability and strength.
So, all you need to do is choose the best type of air-drying clay based on your requirement of color and purpose, and choose the right one to express your inner creativity and playfulness through sculpting, and creating. Happy sculpting!