Clay dough is a very popular name in the art and craft world, especially a favorite one for kids. More or less, every kid is familiar with the name and usage of clay dough or playdough because it is one of the favorite tasks of kids to shape and form models out of clay dough for school projects.
It is quite interesting for kids to make different shapes and models out of clay dough. This hobby gives their imagination a beautiful shape and brings out the inner artist in them by feeding the child's mind full of curiosity to create something new every day. Not only kids but also adults are fond of colorful clay dough when it comes to making interesting and fun models and crafts.
Hence, for those who love to give their imagination a shape, dough clay works as a medium for bringing out and cherishing their inner creativity. Before saying anything about dough clay, we should know what it is and how to make it. In this article, we are going to tell the same. Without wasting much time, let's get started.
What is dough clay?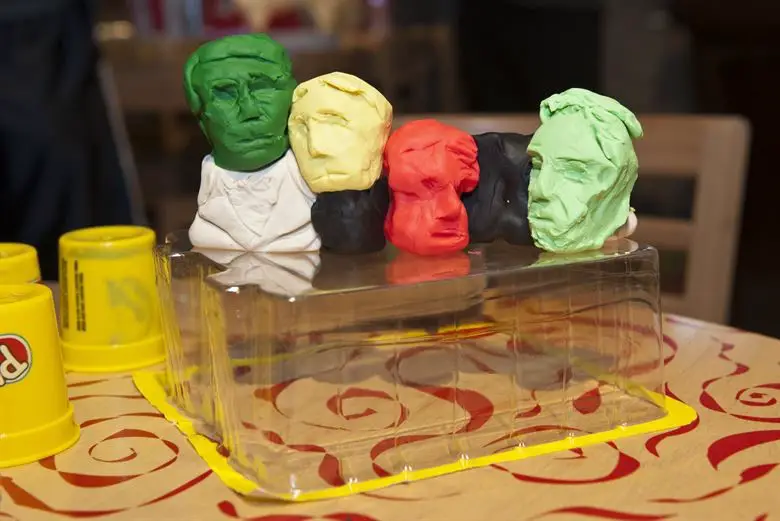 Dough clay is basically a modeling compound that is used for creating different shapes and models. This form of clay is one of very favorite craft items for kids. Dough clay is popularly known as Play-Doh; it is a non-toxic soft clay-like substance that comes in different colors and non-sticky forms that can be used again and again.
The purpose of using Play-Doh or Dough clay was not the same as twenty years ago. Initially, it was used as a wallpaper cleaner. However, the purpose of its usage gradually changed, and now, it's a favorite part of a creative toy for children.
History of dough clay
As stated in the book Tim Walsh's "Timeless Toys: Classic Toys and the Playmakers Who Created Them", Play-Doh was produced for the first time in the late 1920s as a wallpaper cleaner by Cleo McViker. He worked for Cincinnati, an Ohio-based soap company of Kutol Products. To save the company from going out of business, in 1933, Cleo McViker negotiated a contract with Kroger grocery stores to sell them a new kind of wallpaper cleaner that comes in readymade form.
Though it was almost unknown to Cleo and Kutol products to make wallpaper cleaner as they hadn't produced such things before, Cleo's brother Noah, a product developer, became their savior. The formula he suggested resulted in the formation of a malleable clay-like compound, which is non-toxic, made out of the water, and flour, and can be easily sold. It was a winning shot by the company that made them sip on the cup of their success for a long period of time.
During the time of the early 1950s, after Cleo's death, his son Joseph McViker took charge of the business to keep it going. During the time, in 1955, McViker's sister-in-law Kay Zufall, who was a nursery school teacher, made him realize to use their manufactured, readymade, and clay-like product as a play and craft object.
The clay designs made by the students of Kay's school convinced McViker to use it as a craft object, and then, he reformulated and remodified the product to be used in art and craft. And the product came to be known as Play-Doh, which became and still is a popular fun crafting toy for children.
Interesting facts about dough clay
The clay dough was originally sold in white color. The primary colors like red, green, blue, and yellow were added later on. After that, more than 50 colors were added. The most popular of them are garden green, rose red, Robin's egg blue, and blue lagoon.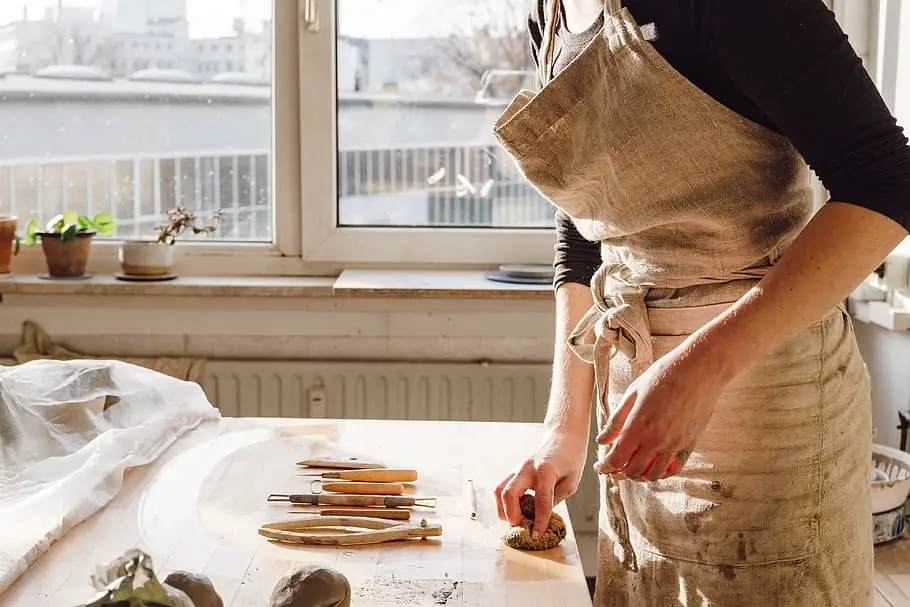 The Play-Doh or dough clay was brought to everyone's home by the CBS children's show named Captain Kangaroo. The man behind the show Bob Keeshan used to love Play-Doh so much that he even made this dough clay popular as a toy.

McViker made a deal with Keeshan to make him use this product in his show to popularize the product in the market. Surprisingly, the strategy actually worked and made this product popular overnight, and Play-Doh became a famous household product used by kids as a toy.

There is a large model of Play-Doh in Disney's Pop Century Resort as they have a theme of the mid-1900s that has a larger-than-life vintage Play-Doh container that includes Play-Doh Pete.

Food ingredients are one of the main ingredients of dough clay. It can be made using salt, water, and flour, which are absolutely non-toxic.

It is not only a fascinating toy for children of the pre-nursery stage but also equally fascinating for kids above six years old. Even adults get easily addicted to dough clays.

The non-stickiness, dryness, and softness are all that make the dough clays a lovable thing for everyone.

There are even Play-Doh perfumes available in the market for the ultimate clay dough lovers who love the nostalgic perfume of Play-Doh more than anything.
Benefits of playing with dough clay
There are several benefits of using dough clay as a toy. Not only it is a fascinating game, but it also has some beneficial effects on your kid. Following are some of the advantages of playing with dough clays that you can't miss:
It enhances the motor skills of your child when they squish the dough, make rolls out of it, and shape the dough by flattening or by other activities that strengthen the hand muscles of your kid. This strengthening of hand muscles helps in improving the motor skills of your child.

While squeezing the dough clay, your kid gives pressure using the pointer finger and thumbs to get a steady grip of the object. It enhances the pre-writing skills of your kid by improving their grip.

It feeds the hunger for the imagination of your kid. As the dough clays can be given any shape like flowers, vegetables, fruits, animals, vehicles, etc., encouraging your kid to shape dough clay using their imagination helps in improving their creativity.

Also, playing with dough clay has a calming and soothing effect on your kid. It makes them sit at a place and create something with a lot of patience, thereby increasing their concentration power and level of endurance.

While playing with dough clay, your child becomes familiar with different shapes and colors that enhance their knowledge, thereby increasing their hand-eye coordination.

Playing with color has a vibrant and amusing effect on your kid. As kids love eye-candy colorful things, and mixing of clays of two different colors to bring out a new color, enhances their knowledge about color, thereby increasing their curiosity.
Best dough clays available in the market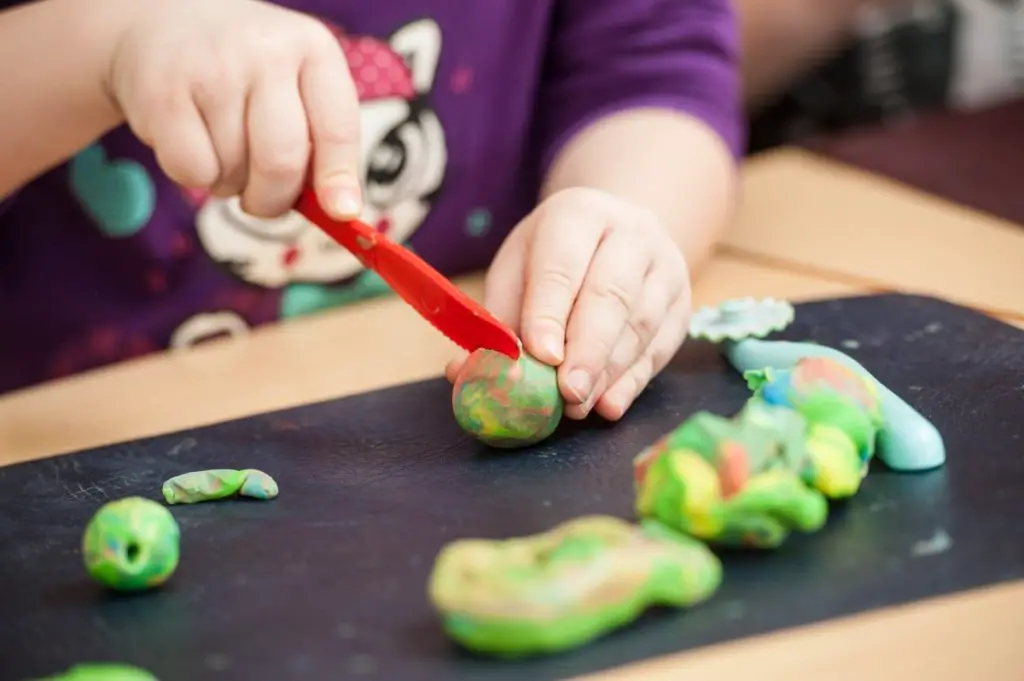 Dough clays are easily available in the market. As it is a favorite thing of most kids, and also suggested by schools to make models out of it, it is easily available in any art and craft online or offline stores. Making colorful shapes and models is not only interesting but also beneficial for increasing creativity and aestheticism in your kids.
There are plenty of brands that produce dough clays and have been ruling the market for years. However, it's a fact that they can't make completely chemical-free dough clay. They add synthetic perfumes and preservatives to make it smell good and remain intact for a long-time duration, respectively.
Since kids tend to put everything in their mouths, the heavy chemicals present in the clay can be harmful to their health and skin. Hence, it's not at all tough to find the right one for your kid, but before buying any dough clay from the market, make sure it is non-toxic and safe for kids. For example, Szsrcywd Air Dry Clay is one of the top-notch quality clay, which is eco-friendly as well as safe for kids.
Another type of dough clay, which attracts kids a lot, is glitter-added clay. It has a glossy, sparkling effect. So, buying glitter clay would be the best choice for you to gift your kid. Play-Doh Sparkle 6-Pack of Glitter Play-Doh Compound is a good option to buy for your kids. It comes in a pack of 6 colored dough clays and absolutely non-toxic to ensure your child's safety while they play with it.
How to make dough clay?
As we have mentioned above companies add synthetic perfumes, dies, and preservatives in clay doughs, they are not safe for your kids. Hence, being a parent, you must be extra cautious about everything related to your child's safety. It's better to avoid those dough clays available in the market.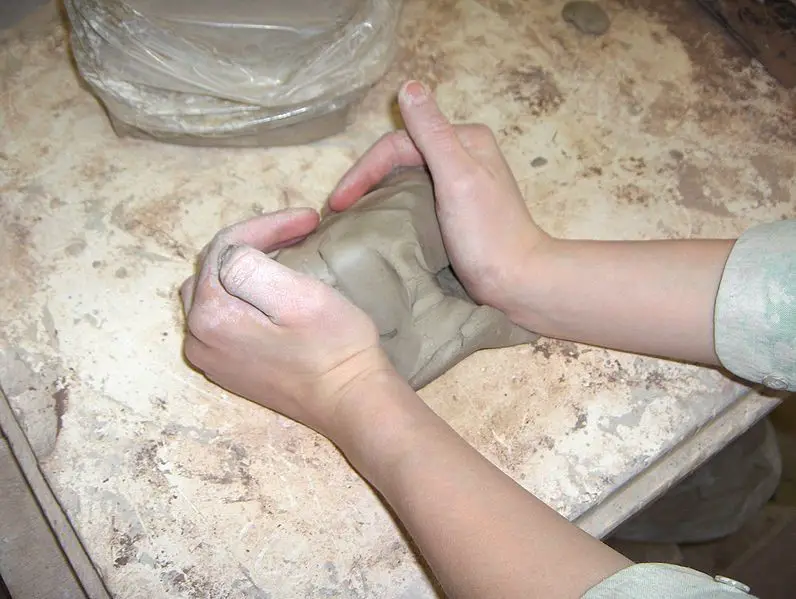 Then how can you get non-toxic and safe clay for your kids? Well, the good news is that you can make it at your home on your own only by using some of the edible non-toxic, and absolutely safe ingredients. Also, your kids are going to enjoy making Play-Doh as much as they love playing with it.
There are different kinds of dough clays that you can make at your home on your own. Here are the ingredients that you should use while making those clays:
Baking clay

No-cook playdough

Kool-aid playdough

Homemade playdough

2-cups baking soda

1-cup cornstarch (corn flour)

1.5-cups cold water

1-teaspoon powdered alum

4-cups of plain/all-purpose flour

1.5-cups water

1-cup salt

2-cups of plain/all-purpose flour

1-cup of cold water

1-cup salt

1-tbsp oil

2-pkg of unsweetened Kool-Aid

2½-cups of plain/all-purpose flour

1-cup salt

1-Tbsp. cream of tartar

2-cups plain/all-purpose flour

2-cups of water

2-teaspoons cream of tartar

2-tablespoons cooking oil
Air hardening modeling clay: 
In order to make the air-dry modeling clay, you need to take all the ingredients and mix them in an appropriate quantity. Then, put the kneaded dough in a pan, and keep stirring it until there are no lumps left and it gets the consistency of mashed potatoes.
Now turn off the stove once it gets prepared and cover it with a wet towel to let it cool. Put the dough on a floured surface and knead well to form pliable, smooth, and soft clay. You can prepare the clay with everyday food coloring, or keep it white and paint it, once hardened.
After the clay is ready-to-use, you can make models out of it and leave it in the dry air to get the clay hardened.
Mix up the ingredients properly and place it onto an ungreased baking tray. Bake one side of it for 30 minutes, and then turn the clay around; bake it for another 90 minutes. Baking must be done at a low temperature of 250° F or 120° C to ensure that the clay doesn't burn.
After baking your clay, cool it. Thereby using fine sandpaper, varnish the clay surface, and it will smoothen out well.
Put all the ingredients in a plastic bag and seal it properly. Mix it well while it's inside the bag, and knead it thoroughly. If the kneaded mixture seems to be sticky, you may add flour to absorb the extra moisture.
You can make use of food coloring to give the dough a colorful texture. Once you complete all the steps, it is ready to use. Now, you can play with it by shaping it the way you want.
Take all the ingredients in the right measurement, and mix them together. Now, add oil to boiling water in a bowl. Pour this mixture into the already assorted ingredients and keep stirring it.
Then, knead the dough properly until it becomes smooth. Use food colors to make your clay look even more vibrant and attractive.
Take all the dry ingredients and place them in a saucepan. Later on, add water, oil, and edible colors. Keep stirring it and let it be cooked slowly. After it thickens up, turn off the stove and place it on a floured surface to knead it well.
You can alternatively place it in a microwave for 6 minutes and frequently remove it to stir well. And then, knead it on a floured surface to get the perfect texture.
Conclusion
Dough clay is, undoubtedly, a perfect play-time friend for kids. Gearing up the motor skills of your kids and making them get involved in some creative and crafting activities for a certain amount of time is truly beneficial. Not only it improves the health, mood, and patience of your kid, but it also feeds their knowledge and curiosity in a fun way that they enjoy a lot to do.
But you need to be a little more conscious while choosing a clay box for your kid from the market. Since the clays available in the market are full of chemicals, it's always the best choice to make everything at home to ensure the safety of your kids.
Now that you know how to make the dough clay at home, we hope you will give it a try; you're going to have fun while preparing it. Enjoy your quality time while playing with your kids with dough clays.
Happy sculpting!