Pottery if a fun hobby to learn, in that there is a lot that you can do with it. it's an easily accessible hobby as well, in that it doesn't take a ton of effort to learn. But what is it? why is it so special? What can you learn here on this site in regard to pottery? Well, you're about to find out.
What is Pottery?
Pottery is actually two different definitions, with one of them being a verb, and the other one is a noun. They are as follows:
Pottery as a verb means to make something out of clay, particularly a pot
Pottery as a noun is the art that is created through the use of clay
It also can even entail the location of where the pots are made.
In this, you're using clay to create the vessels that you want to, which in turn renders beautiful art that can be displayed.
Pottery involves different types of clay, and there are different means of putting it on the wheel as well in order to create various shapes. By the end of it, once you've finished creating the project out of clay, you can fire it in the kiln, which in turn will solidify the product, giving you an amazing piece.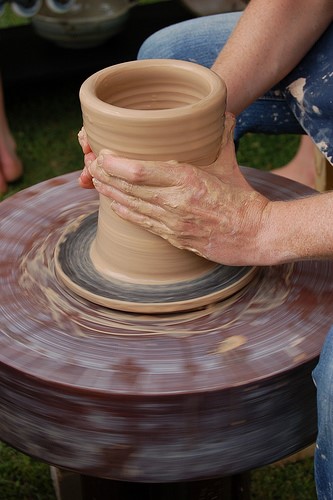 Why Learn Pottery
So why should you learn it? well, there are various benefits to learning pottery, and they are as follows:
You can create some amazing art with this.

You learn about different parts of pottery, including the different kilns, the parts of a pot, and even how you can create these amazing shapes.

It's fun.

Creating pottery is often very relaxing, and it's a good hobby to have if you're stressed out and need the means to relax

It's often quite simple, and there is a lot of artistic freedom to be had when learning pottery.
Pottery is one of those hobbies that might take a bit of time to get into, but once you learn a bit more about pottery, what it is, and some of the other factors, you'll be able to create some amazing things.
Pottery is Good for Any Skill Level
Do you not have a single artistic bone in your body? Do you feel like you can't create art? Well, you're in luck, because pottery is actually one of those hobbies that's perfect for any skill level.
You'll be able to learn everything from the basics to different types of firing, to even the purpose of glazing and other decorative factors. Pottery is one of those hobbies that does take a bit of time to master, but it's super simple to get into.
With it, lots of times it's mostly how you shape the clay. The art of shaping the clay is quite easy for people, but it's the mastering that often makes it quite harder for people. However, once you know this, you'll be able to create some amazing pieces, and it's quite fun too.
It's a hobby that's good for anyone new and old, and you can create some killer pieces with this, no matter what your skill level might be.
What This Site Contains
So what does this site contain? Well, there are many different areas to check out in terms of learning pottery, but you'll be able to learn about the following and so much more:
The different types of clay in pottery and how to use them.

All about kilns and how you fire pottery.

The art of making pottery.

How to make different things.

Various precautions.

Other amazing tips to make your pottery stand out and look like something unique.

Various other interesting tidbits that you can try out in order to make your pottery magical.
Pottery is a great hobby to get into, and this is just the tip of everything that you can learn. Take a look as well at some of the amazing pieces that you can learn to create and start to avail yourself of the many great things that pottery has to offer. You'll be surprised at the different types of pottery that you can make, and some of the unique items.