Are you thinking of gifting your child a potter's wheel and pottery clay this holiday? Well, childhood is the right time to start getting indulged in new kinds of hobbies and skills as the curious mind dedicates itself totally to innovation and creation. And making them engaged with pottery is going to be all way beneficial to kick away their study stress and entertain them while growing their skills.
However, the biggest problem that occurs with kids is that their little hands find it difficult to master the bigger professional wheels and clay. Also, they can't get access to a kiln for their small projects. So, home ovens are the only way using which they can get their pottery piece adequately fired.
So, here we are going to talk about the best kind of pottery wheels that you can give to your child. At the same time, we are going to shed some light on what type of clay is right for your kid so that they can oven-bake it. Now, let's have a look at the article before making a decision.
What problems do the kids face while working with large professional wheels?
Kids love to play with the clay. The messier their hand gets, the more they learn. A wheel plays a significant and foremost role in pottery making when it comes to giving the clay a shape.
But here are the problems that your kid faces when they try to work with bigger pottery wheels.
1. It's too tricky:
It is even daunting for adults to master the skill of clay throwing and wedging on pottery wheels. So, isn't it quite natural for your kid to get frustrated with the complicated tricks of the large pottery wheels? Mastering the wheel and accelerating it in the right way while controlling the clay is just too much for those little minds.
2. Large wheels are too heavy for kids:
The whole task of a pottery wheel includes mastering the wheel the right way, making it have a good speed, and controlling it properly. But don't you think that kids are not that strong to work with such a heavyweight?
3. Their hands don't reach properly:
The large wheels have a larger radius that makes it difficult for the kids to reach them. It's too stressful to struggle with the reaching of hands and then to control the entire thing.
4. It's tough to work with bigger wheels for small projects:
Kids usually work on their small school projects. Often they start by trying their hands on small projects, which are better for them to have an easy beginning and learn from the base. However, when they work on small projects using a bigger wheel, it becomes difficult for them to have better control over the process. And this leads to an absolute mess.
5. Difficulty at the beginning kills their interest:
If things start getting tougher from the very beginning, kids tend to lose interest. Pottery making should be full of fun and less difficult at the initial stage to make them grow their knack.
How can you choose the best pottery wheel for your kids?
Before buying a  wheel for your kid's pottery project, here are the things that you should not forget to consider.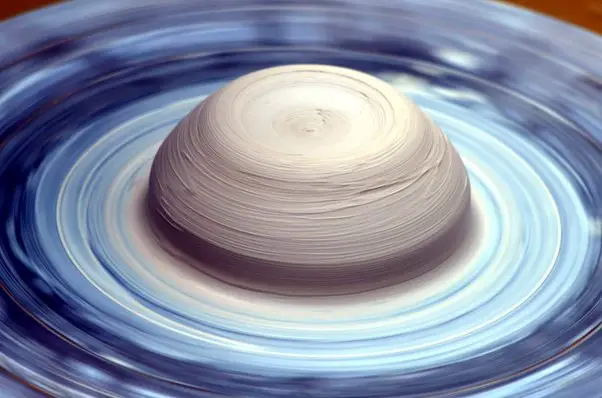 1. Consider your child's age:
Before opting for a pottery wheel, consider the age of your child, and ask yourself if he/she is going to have a smooth time with the wheel or not. A wheel with too much-sophisticated mechanism is going to be tough for your young kids.
Look for simplicity in features in that case.
However, if your kid is 12-14 years old, then they have the proper potential to master the advanced features of a wheel with their intelligence.
2. Look for specific features:
There are multiple features that a kid's wheel consists of. Look for the features that suit properly to your kid. Look for a wheel that your child can use for more skills as they grow. You can invest in something a bit larger with more advanced features.
3. Have a note of the mechanism of the wheel:
Make sure that the wheel mechanism you are picking suits the needs of your child. Look at the spinning mechanism of the wheel, and choose one that seems simpler to your kid. Here are the two basic types of wheels that you can consider.
| | |
| --- | --- |
| Wheel type |  How does it work? |
| Manual kick wheel | For a manual kick wheel, you need to put in your effort manually. It's not automatic; you need to control the speed with your hands. |
| Electric wheel | Electric wheels are usually stuffed with various functions. There are multiple settings offered for speed and style. You can either connect it to the electricity or use it with batteries. |
4. Ensure its effectiveness:
Make sure that you are not gifting your kid just a mere piece of toy. A kid's pottery wheel, for the name's sake, is not going to take your kid anywhere with their pottery skills. Make sure that the wheel is having all the essential features, which are capable of giving you better results with efficiency.
5. Safety measures:
Since you are going to choose it for your kid, it should be packed with proper safety. Make sure that the wheel-operating mechanism is not risky for those tiny fingers.
6. Brand:
When it comes to the matter of kids, it's better to opt for the brand label and trusted manufacturers. Most of the wheels do not give accurate results or are not so durable because of their cheap quality manufacturing.
However, branded products do not compromise their quality. On the other hand, you must not want to invest your money quite often. So, make a wise investment to get its true worth of it. The Mini Electric Pottery Machine DIY Clay Tool with Tray can be the best choice for your kid.
But if you wanted a more full-size one or had an older kid that wanted to learn pottery this one might be a better fit.
IAMGlobal Pottery Wheel, Art Craft Kit, DIY Pottery Studio, Craft Activity, Artist Studio, Ceramic Machine with Air-Dry Clay.
How can you choose the best clay for your kids to use?
Hopefully, we are clear with our points on the suitable pottery wheel for your kid; now it's time to put some light on the type of clay that you should use. There is a variety of clay, which is available in the market and good for pottery. Potters are doing multiple projects using such clays and creating effective results; however, that does not mean it is going to be suitable for your kids.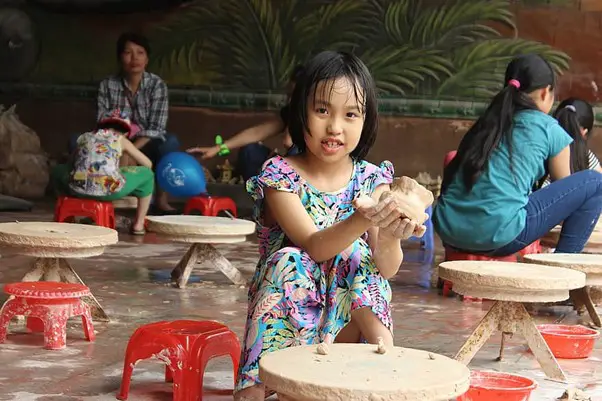 Kids need more attention to their skills. And, of course, the clay for your kid should be manageable enough to make their work easy. Here is how the perfect clay for your kid should be:
1. Soft and pliable:
Those little hands cannot bear the toughness. An easy clay with enough pliability and softness is the most recommended one. Pottery making for kids is not just about skills and hobbies, but it also plays a vital role in their physical growth.
When kids knead the dough, their sensory nodes and muscles get the proper growth and enhance blood circulation. Thus, choosing soft and pliable clay should be your priority.
2. Plasticity of the clay:
The clay should have enough plasticity in it. To form a dough of clay, only kneading and wedging to prepare it for pottery making is not going to get a good result if the clay lacks proper plasticity. It is going to help your kid in giving the appropriate shape to the pieces so that they can learn more from it to enhance their skill.
3. Skin-safe:
Working with clay has its own issues. As the clay gets in contact with the skin, it dries out the hands and leaves a white and rough texture. However, it can cause allergies if your kid's skin is too sensitive. Make sure the clay you are choosing does not contain any harmful content.
Many synthetic colorful clays are available in the market for kid's projects. Such clays are chemically processed and contain harmful artificial colors and fragrances along with chemicals, which can cause many skin-related problems. Hold yourself back from handing over toxic clay to your kid.
4. Drying process of the clay:
The drying process of clay plays a massive role in deciding if it is suitable for your kid or not. Most of the professional clays need to be bisque fired at the kiln to achieve a hard surface. However, if you want our suggestion, then it is better to go for the air-dry clays that are easy to control and become completely dry within 12-24 hours at room temperature.
What kind of clay is suitable for oven baking?
Usually, the clay needs to be dried first and baked at a higher temperature inside a kiln to get that proper tough surface and consistency. However, that is not at all an option for kids.  First of all, it is tough to get access to a public kiln, as they are limited in numbers. Buying a kiln is way too costly. And at the same time, it is a waste of money to buy a kiln for your kid's small projects. On the other hand, it is too risky to expose your kid to work in front of a kiln.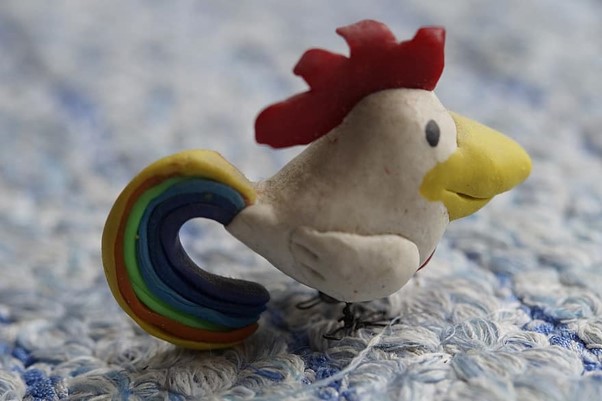 However, the only alternative is the home ovens that you can use with proper safety at your home.  Now the only problem is that not all kinds of clays are going to be a good choice for oven baking. The low-temperature ones may break the entire effort of your kid. You need the proper type of clay that you can offer your kid to work with the oven baking.
Let's have a look.
Unlike the earthenwares, and stonewares that need a lot of effort to bake, the polymer is the only choice that goes well with oven baking. Polymer clays become a good choice when you use them for small projects. Polymer clay does not shrink after baking and becomes more durable and waterproof after baking. The only time it needs in, is to condition the clay before baking.
However, there are different types of polymer clays available in the market. As per the type of polymer clay, you need to set the required temperature in your oven for baking it.
Here is the baking temperature guide for the different types of polymer clays:
| | |
| --- | --- |
| Types of clays | Baking temperature |
| Cernit | 275-°F/ 135°C |
| Pardo | 325°F / 163°C |
| Fimo | 275°F/ 135°C |
| Souffle | 275°F/ 135°C |
| Kato | 300°F/ 149°C |
| Premo | 275°F/ 135°C |
| Sculpey | 275°F/ 135°C |
Terracotta clays are red and play an essential part in the pottery-making world. These clays are used for making red-colored particular terracotta pottery type, which does not need high temperatures for firing. The terracotta clay is good at oven baking and thus can be used for baking purposes. Also, if your oven experiences temperature fluctuations, do not worry; it won't affect your terracotta clay. However, always opt for a non-toxic food-safe terracotta clay before placing it in your home oven. You can opt for  Sargent Art Plastilina Modeling Clay, which is not only food-safe but also ideal for getting oven baked.
Also, baking clay is quite easy to master. Place one rack at the bottom position of your home oven. On top of it, place the terracotta clay properly so that the heat can spread through it evenly. You must preheat the oven to its higher temperature for about an hour. After that, you need to bake the clay for 5-7 minutes to obtain adequately fired pottery.
What are the tips to follow to avoid the breaking of clay inside the oven?
Here are certain tips that you and your kid must follow to prevent the breaking of the clay inside the home oven.
1. Condition your clay properly:
Make sure you have conditioned your clay properly before putting it inside the oven. 90% of the time, the clay breaks because it lacks sufficient conditioning. So make sure that it is adequately conditioned before getting exposed inside the oven.
2. Get rid of all those minute air bubbles from the clay:
If there are any air bubbles trapped within the clay, it is undoubtedly going to break the clay while getting baked inside the oven. Wedge the clay properly before making pottery.
3. Make sure the clay is dry:
It is essential to air-dry the clay properly before putting it inside the oven. Just leave your clay for 12-24 hours after working with it and let it become dry. Once it is dry, put it inside the oven, or else the moisture is going to cause an explosion.
4. Preheat the oven and rest your pottery after  turning it off:
To avoid accidents due to heat, preheat your oven for some minutes. And once you are done with baking, don't just open the oven door right away. Please wait for some minutes to make it reach the normal temperature, and then remove it from the inside.
Conclusion:
Home these tips are going to be easier for you if you are going to buy a wheel and clay for your kid. Always make sure that you are choosing the right thing, as this is the right time to make the kids habituated with better skills and educational values. Also, never forget to consider safety matters while giving your child a pottery wheel and clay.
Happy sculpting!