For many potters, finding the right place to throw pottery can be hard, but, I tried out the Speedball Portable Artista Tabletop Pottery Wheel, and I immediately noticed a difference. This is one of the best for practically any throwing surface you choose to work on.
Out of all of the tabletop spaces I've tried, this one allows for comfort, and flexibility that I didn't even know you could get with this.  It is really good for potters that want everything, and are still trying to master the best position for throwing.
High-Quality Tabletop Space
When I started using this, I noticed that the space for throwing on this was definitely better than other types of throwing wheels I've used before.
For starters, this one caters to multiple throwing positions, including the following:
Standup throwing
Sitting throwing
Tabletop throwing
I used this on my tabletop, and it fits perfectly on there. It sits well, and I was able to easily craft some amazing pieces with this.
With this wheel, I noticed that on tabletops it allows for the following:
Ease of throwing
My hands weren't uncomfortable when throwing this
I didn't feel any strain in my neck
I love this a lot because lots of times, I would use a wheel and I'd feel a lot of pain after a while. This one worked super efficiently, and the best part was, I didn't feel like I was straining my body just to make some pottery!
Comes with Everything You Need
Not only does it make the perfect tabletop throwing wheel, it literally comes with everything that you need to get started.
With this, you get the following:
An 11-inch wheel head that holds up to 25 pounds of clay at a time
A two-part splash pan
A plastic and steel construction to the wheel
A metal wheel that holds the clay efficiently and allows for you to throw well
A DVD on how to use this item
Two cups for your splash pans
A foot pedal that you can use for converting, or an easy hand-powered wheel
The wheel itself is also fast too. It only goes to 1/3 HP, but for basic wheels, this does run smoothly, and without too much noise either, and it can reach up to speeds of 220 RPM.
Simply put, you have the ultimate kit here, and for a price like that, it is going to help you take your pottery to the next level.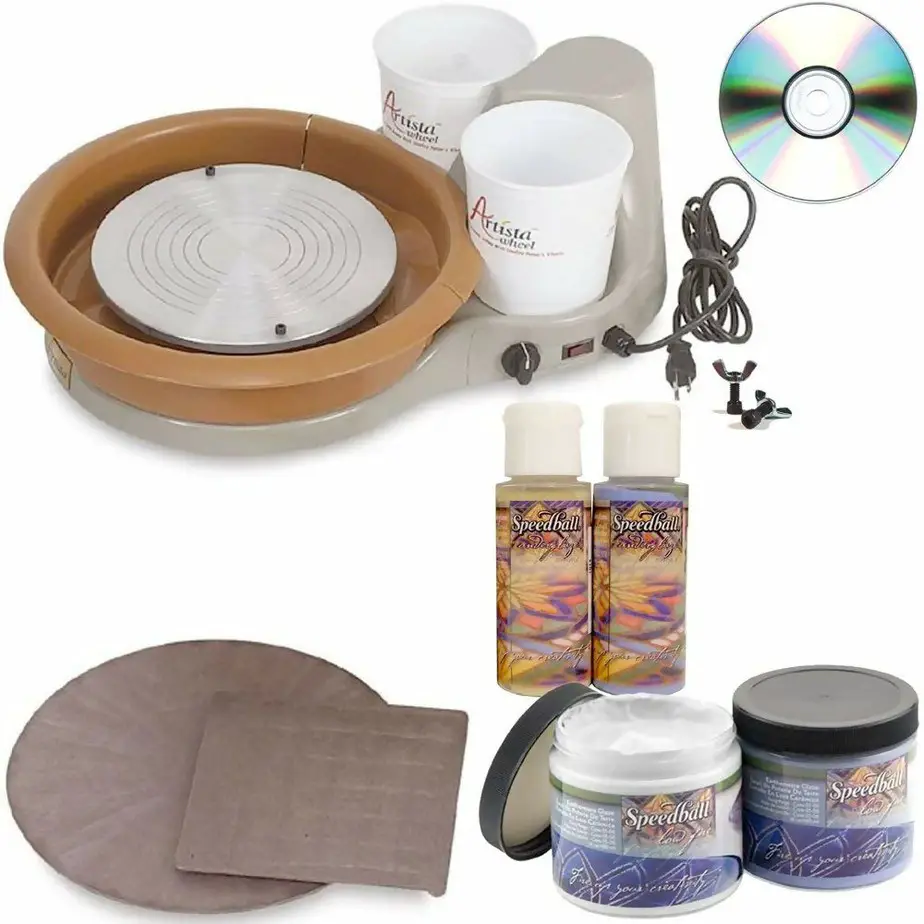 Durable Where You Need it
This pottery wheel isn't just made to sit in a studio, but Speedball Art understands the importance of durability in their wheels.
That's why, not only is this a good wheel for tabletop spaces, it actually is also partially portable too.
Some ways this is portable include the following:
It has a sturdy design that won't collapse on you
It's small enough to fit on most tabletop spaces
It has a compact construction, helping with easy storage and transport
It's made with industrial materials, in order to enhance the ruggedness and durability
This is the perfect design for those who are looking for something that they can just bust out and use at their leisure.  I noticed that when I needed to throw something on the wheel, it was right there, and I could put it in a closet whenever I didn't use it.
Perfect for Small Spaces
This pottery wheel fits right into tiny spaces, which is something that I loved.
You can pretty much put this anywhere, including the following:
A closet
Storage space
On a designated table
In a small corner
For those potters such as myself who don't have space to really put a full wheel up, this is the perfect alternative for you.
Reviewers Agree!
Click Here to Read the Reviews on Amazon.
Reviewers love this product too.  Here are just a few of the reviews that some have made about this product!
If you throw for personal enjoyment and satisfaction this wheel is perfect. It's sturdy, easy to clean and very portable. I can use it at my kitchen counter or on a bench outside on a sunny day. I love this wheel and it is absolutely worth the money. Don't bother buying the separate legs or foot pedal, you won't need them. You will need a sturdy surface to set it on, though
Have always wanted a pottery wheel because I can't always make it to classes at the local museum! It's a great wheel and already enjoying my clay time
My name is Patti and my husband surprised me with a new potters wheel for Christmas this year. I have played with clay since the '70s and am glad to report that this wheel has found a happy home in my studio. This wheel is light and very easy to set up. Sturdy and durable. Speed controls. Easy cleanup.
So yes this wheel does work, and it can help you reach your pottery dreams, no matter what they may be. If you want something that provides portability, and speed that you can trust, this is the way to go, and for this price, it certainly can't be beaten.
Try it Today!
If you've been considering a new wheel, or maybe you're a beginner potter that wants to try something a little more portable than a standard wheel, this is the way to go.
With all of the different functions in this, it's no wonder people love this wheel and want to use it more. It is small but also packs a ton of power.
If you're looking for an effective, efficient wheel that will get you results, then look no further.  If you're ready to make this purchase, you can buy it from here, and start working on your next amazing pottery piece today!