Pottery is an artistic process that requires the involvement of clay, the right techniques, some creativity, and of course, a good pottery wheel. Before the advent of modern-day electric pottery wheels, potters used to rely on manual wheels that required a lot of labor with chances of glitches as well.
However, since automated wheels have taken over the market, pottery has surely evolved over the years. The entire process of pottery making looks fairly different in the present day. So, if you are someone who has just started into the world of pottery, electric pottery wheels serve as an amazing option for creative crafting.
What is an electric pottery wheel?
As obvious by the name, electric pottery wheels are throwing wheels that are powered via a motor that helps control the spinning speed of the wheel. Today, they function as a feasible choice for potters that are just beginning their journey. The fact that these wheels are portable, as well as easy to use, is what makes them perfect for daily throwing needs.
If you have decided on getting yourself a pottery wheel, you must load in as many details as possible prior to taking a plunge into the world of pottery. To aid you in picking the best electric wheel for pottery, here is a comprehensive guide for you to follow.
So, without further ado, let us dive in.
Learn the Basics
Before you jump ahead and consider purchasing a pottery wheel, make sure you are ready with your knowledge of the basics of the art. When you explore the pottery wheel section online or in a mart, you will come across a plethora of terms such as:
This is the art of making use of molding clay in order to create vessels & ornaments. The process is comprised of two prime components that include clay shaping (done with the help of a wheel) & baking the same using a kiln that helps remove water present in the clay & hardening it eventually.
Throwing is the process in which you shape the clay using a pottery wheel. This is conducted via the centering process on the spinning wheel while using the hands to create the desired shape. Now, keep in mind that the pottery-throwing process is an intricate one. This is why getting access to the perfect wheel will help you get an optimum result.
This is the final process in pottery, where the properly shaped clay is placed within a potter's oven or kiln. Just like throwing, the firing process involves detailed calculations and skills. You need to find the right temperature at which your design works best and modify it as you go in case things do not work out your way.
Only Select Electric Wheels
After you have familiarized yourself with the basic pottery terms, the next thing you need to do is pay proper attention to what you invest in. You can find two different types of wheels in the market for your pottery needs that include:
Motorized or Electric Pottery Wheel
Non-Motorized or Kick Wheel
Motorized wheels use electric power and can be flicked on & off with the help of one switch. On the other hand, kick wheels need you to make use of your feet to make your wheel spin. Although kick wheels have been popular back in the day, they sure are durable & low-maintenance. However, with time, they have now become irrelevant.
Today, only electric wheels are relevant in the market. Although some potters do stick to the old ways of using the kick wheel, most opt for the ease that comes with electric wheels. So, here are a few reasons for you to opt for electric wheels.
For someone who is just beginning with pottery, there could be a lack of a full-fledged studio in your space. The issue with space constriction is what makes electric wheels an attractive choice. They can easily be moved to any place required. Some of the variants are so light in weight that one can easily travel along with them.
Given the fact that electric wheels do not require you to control their wheel manually, the throwing and shaping process becomes fairly easy. This contributes to faster pottery making.
Electric pottery wheels tend to work way better than kick wheels in case you plan on making large set ornaments or vessels using heavy clay.
Adjustable Rotational Speeds:
When starting your pottery journey, keep in mind that the speed with which you rotate your wheel can heavily impact the shape and quality of clay and your final result. The electric wheel allows you to completely control its rotational speeds. This gives you a chance to experiment with its rotational speed in order to understand what fits your pottery needs in the best way.
Things to Keep in Mind When Selecting Electric Pottery Wheels
Just like any other machine, even the electric pottery wheels come with their own set of demerits. However, with the advent of technology, these demerits are being corrected with newer models. So, when purchasing an electric wheel for your pottery needs, here are certain things you need to keep in mind.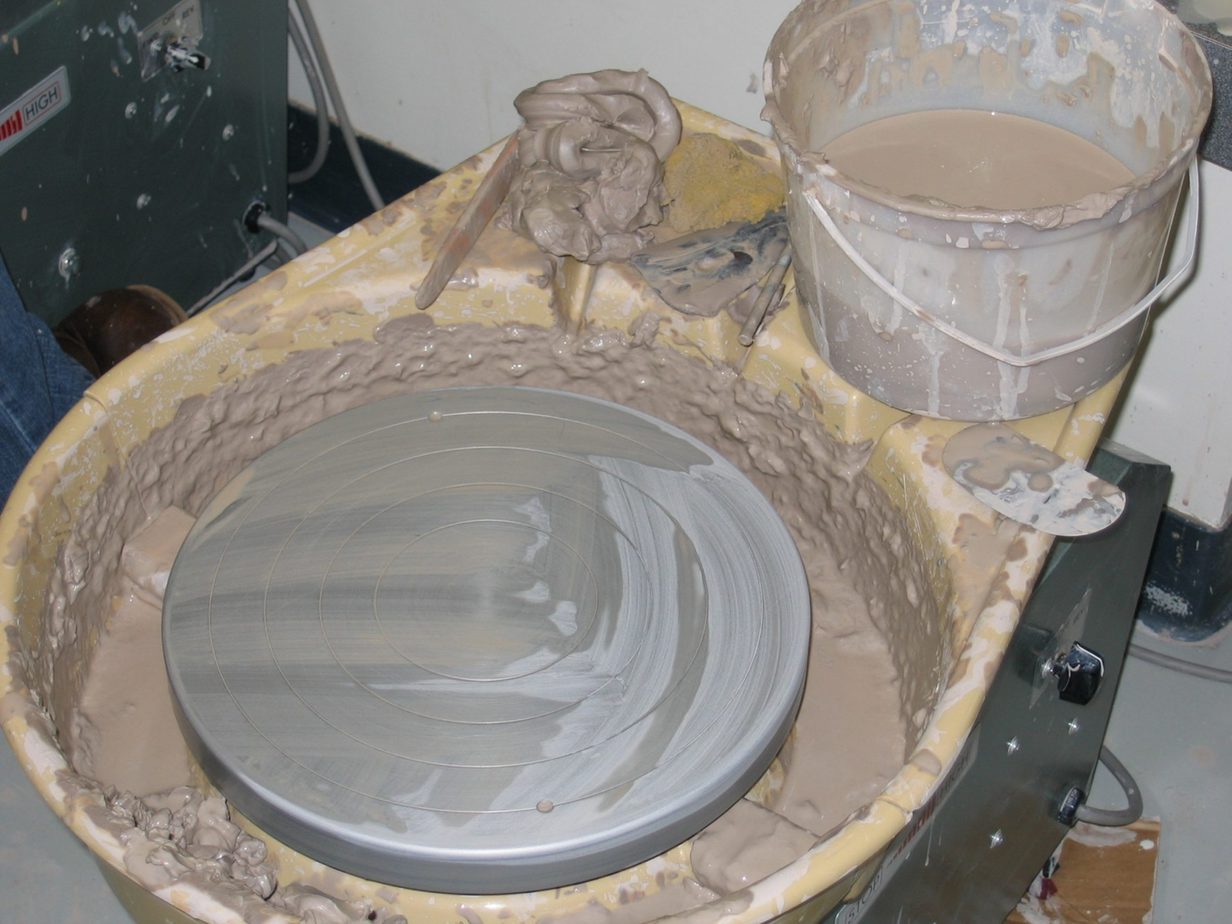 Opt for a Dual-Operating Variant:
Most electric pottery wheels need to be connected to a live power outlet. This means you won't be able to operate it in case there is no power connection in your area. When looking for electric pottery wheels, make sure you get the newer variants that operate both on electricity as well as batteries.
Look for High-End Material:
Given the fact that pottery involves dealing with water a lot, you might need to get yourself a wheel that can easily handle all the throwing without breaking down easily. Even if you are on a budget, regular maintenance & quick repairs can help your machine last for a long period.
One such professional-quality electric pottery wheel is the Dominity Professional Electric Pottery Wheel for Clay and Ceramics Art. This machine comes with 250-watt power & wheel diameter of 25 centimeters. The strong ABS-based body will stay intact for a long time without breaking down.
As you need a motor to operate the electric pottery wheel, there sure will be a certain amount of noise and disturbance. However, you can find newer models available in the market that is way less noisy as compared to their predecessors.
Electric Pottery Wheels: Understanding the Specifications
When testing different types of electric wheels, there are basic specifications that you need to keep in your mind. Whether you are just trying out or maybe buying the wheel in a single shopping spree, these basic specifications will help you grab the best product from the lot.
An electric wheel's spinning upper part is known as a wheel head. This helps shape the clay into a form you like. One thing to look for when selecting the right electric wheel is to check the size of its wheel head. The ones that come with large diameters help shape heavier clay as compared to the smaller diameter ones. This will help you craft larger bowls, pots, or similar designs.
Selecting wheels with a larger diameter will help you craft items with a broader base easily. Make sure you opt for a minimum of 14-inch diameter wheel head.
In some situations, the metallic wheel head might not be suited for the artwork you are trying to craft. To take care of such problems, you can attach the bat pins, which are add-on plates to help you throw the clay in a better way.
These bats are placed atop pins that are situated on your pottery wheel's head. Electric wheel heads come with a standard configuration for their bat pins. So, make sure you check out the same before you buy any electric wheel.
Your electric pottery wheel is powered with the help of a motor which is no doubt an essential component of the ensemble. When checking out the motors, make sure you consider a machine with higher RPMs or Revolutions/Minute. The higher the RPM, the faster its rotational speed.
Most motors have the capability of handling a minimum of 240RPM which affects the torque that can be delivered by the motor. A machine with high torque can handle more of the clay weight.
When it comes to crafting a vessel or any other clay art, one must understand the importance of spinning the wheel both clockwise and anticlockwise. While it's easy to move the wheels in a clockwise direction, moving it anticlockwise could be a challenge. So, make sure you opt for an electric pottery wheel that comes with a well-defined reversible feature.
This also aids individuals that are left-handed, and working in a clockwise direction isn't something for them.
Seated Wheel or Tabletop:
Modern-day electric wheels are available in 2 basic placement variants, which include a seated wheel and a tabletop wheel. The tabletop wheels are placed atop the table & tend to be portable, lighter, & do occupy minimum space.
On the other hand, the seated electric wheels are like a table that comes with an inbuilt wheel. All you need to do is pull up your chair and start using the same. Moreover, seated wheels pack in a sturdy foot pedal to help you press in a rhythmical manner for the smooth shaping of your pottery item. In case you don't plan to work with your feet a lot, the tabletop variants would be an ideal choice.
Most electric pottery wheels have a splash pan that surrounds their wheel in order to capture any lay-offs during the spinning process. Although the splash pans might seem a bit unnecessary, they do aid in the protection of your surroundings.
You can surely add in your own pan using a wide plate underneath the pottery wheel. It could actually be convenient to get a ready-made splash pan that is pre-attached to the machine.
Dimensions, Weight, & Volts:
Other aspects that you need to keep in mind are the dimensions, weight, & voltage of the machine. All-in-all, you need to keep in mind that your wheel's weight is completely manageable & the dimensions allow you to fit it into a space that is convenient and isn't too bulky.
Plan Out Your Budget
Once you have decided on the machine specifications, you also need to consider your budget. An average professional electric wheel might cost you somewhere between $400 and $1500. A wheel that has a higher load capacity, extended motor power, & smoother operation might actually be a bit expensive. It sure would be way more durable when compared with a cheaper model that doesn't carry the right specifications.
As a beginner, you might feel tempted to get cheaper models to test your sculpting techniques. However, it is advised that you opt for a durable wheel. Look for days when you can get some seasonal discounts on your wheel purchase.
Additional Things to Check Out
When investing in an electric pottery wheel, make sure you get yourself one with a long-term warranty. If possible, get an extended warranty to ensure that your machine doesn't become invalid in a short span of time.
Apart from checking the shipping price, you need to consider the time it would take to be delivered to you.
Pottery Tools to Get When Throwing Clay with Pottery Wheels
| | |
| --- | --- |
| Tool | Feature |
| Chamois Leather | Used for smoothening of the pot rims |
| Wooden Rib | Used for smoothening the pot rims |
| Pinning Tool | Ideal for cutting the wobbly pots or getting out the air bubbles from the clay |
| Throwing Stick | Helps clean the outer surface of the pot |
| Trimming Tool | Ideal for pots that have foot rings |
| Sponge | A sponge helps even out the clay or dab in extra moisture |
| Cutting Wire | Helps remove the completed pot from the base |
Conclusion
When purchasing a pottery wheel for your crafting needs, make sure you research the market well before investing. With the right electric wheel, you can surely practice better to become a successful artist. Keep in mind that crafting something beautiful and durable does require patience. So, make sure you help yourself and ease the hardships with the use of the right pottery wheel.