Pottery making involves the complete art of your thoughtful reactive mind. From shaping the clay to giving it a presentable appearance, all include the creative faculty of your mind. The art of pottery-making has gained popularity due to its shape and design.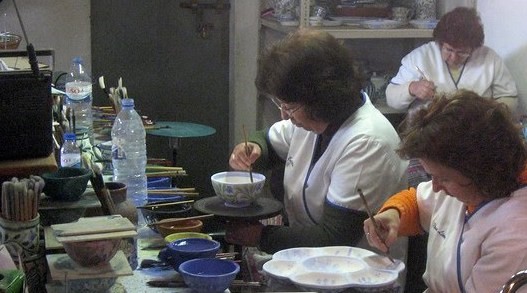 Another thing that attracts most of the art penchants is the way the pottery piece is painted. Most of the legendary pottery works all over the world have a unique way of painting that has attributed those pieces with another level of charm, which is the main reason behind their fame.
So, to bring out the incomparable beauty of your pottery piece, painting it in the right way plays a crucial role. There are tons of pottery painting techniques that the potters use to create a masterpiece every time. However, there are no hard and fast rules about pottery painting. All you need to do is go experiment and find the right way to add more charm to your creation.
As a beginner, if you are brainstorming to get good ideas to paint your pottery effectively, then this article is just for you. Here, we will discuss the various ways of pottery painting that you can adopt to attribute your skill with mesmerizing painting ability.
1. Acrylic painting:
Acrylic painting is a much prettier way to add a bit more color to your pottery piece. Acrylic paints come in a variety of options that let you get access to a multitude of colors. This kind of paint comes in a liquid form that you can easily apply using a brush.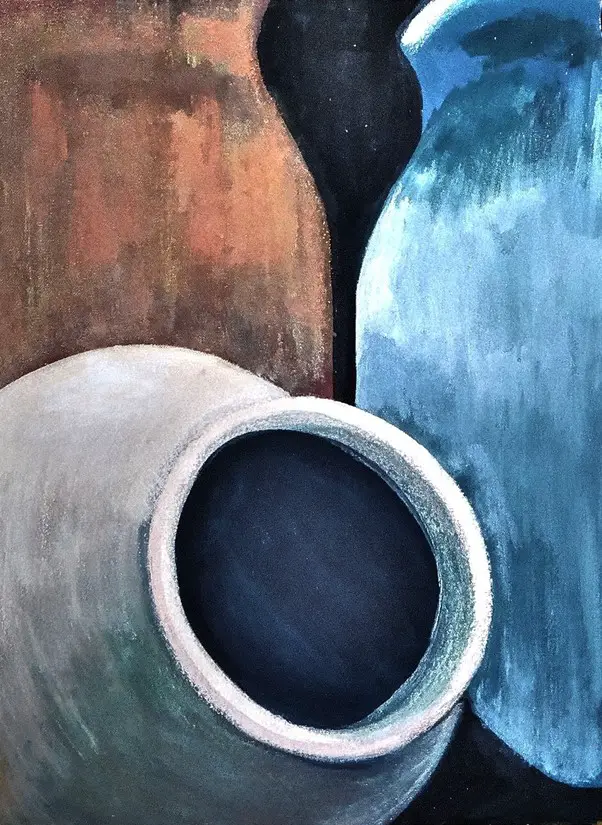 The most exciting fact is that you can create thousands of shades by the mixing and merging technique. When you opt for a pottery piece that is not so functional or want to use it for decorating purposes, then acrylic paints can be the best option for you.
Use acrylic paints to create interesting and pretty motifs or designs on your pottery piece to bring out a colorful and classy look.
Below, we have listed a few types of acrylic paints that you can try using.
| | |
| --- | --- |
| Types of acrylic paints | How do they come in? |
| Acrylic paint pots | They come in small acrylic painting pots filled with liquid colors. |
| Acrylic tubes | These paints come in the form of tubes filled with creamy colors, which you need to mix with water before applying. |
| Acrylic pens | Acrylic pens are similar to sketch pens in appearance. You can use them to paint minute details on your pot by holding it like a pen. |
2. Mandala painting:
Mandala is a unique painting technique, which has gained much popularity for its detailed appearance through intricate designs. Choosing a mandala painting technique to decorate your pottery is the best way to bring out the traditional Asian painting culture.
Apply this painting in a more stylish way to bring out a striking look. Use various colors to create pretty and attractive mandalas on your pottery surface. You can use the polka dot technique symmetrically to create gorgeous patterns.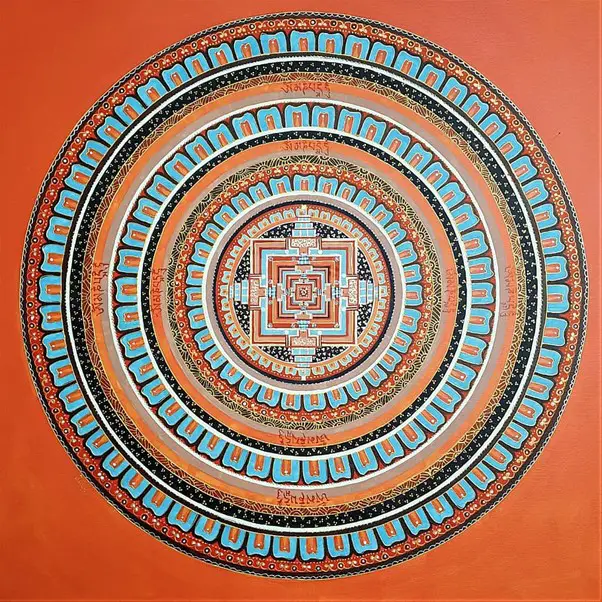 Either you can choose a variety of colors to create mandala art or do color blocking on the same colored background. Modern potters use various colors like acrylic paints, sketch pens, and other tools to create such pretty mandalas.
Also, it is going to be a beneficial pottery design technique for relieving your stress. If you are passionate about painting and feeling bored, then grab a color and start doing mandalas on the pottery surface to create an amazing and unique appearance.
3. Opt for easy and creative brush strokes:
Putting some random brush strokes on your dearest pottery piece will create a very different and creative look. There is no need to follow the grammar of painting.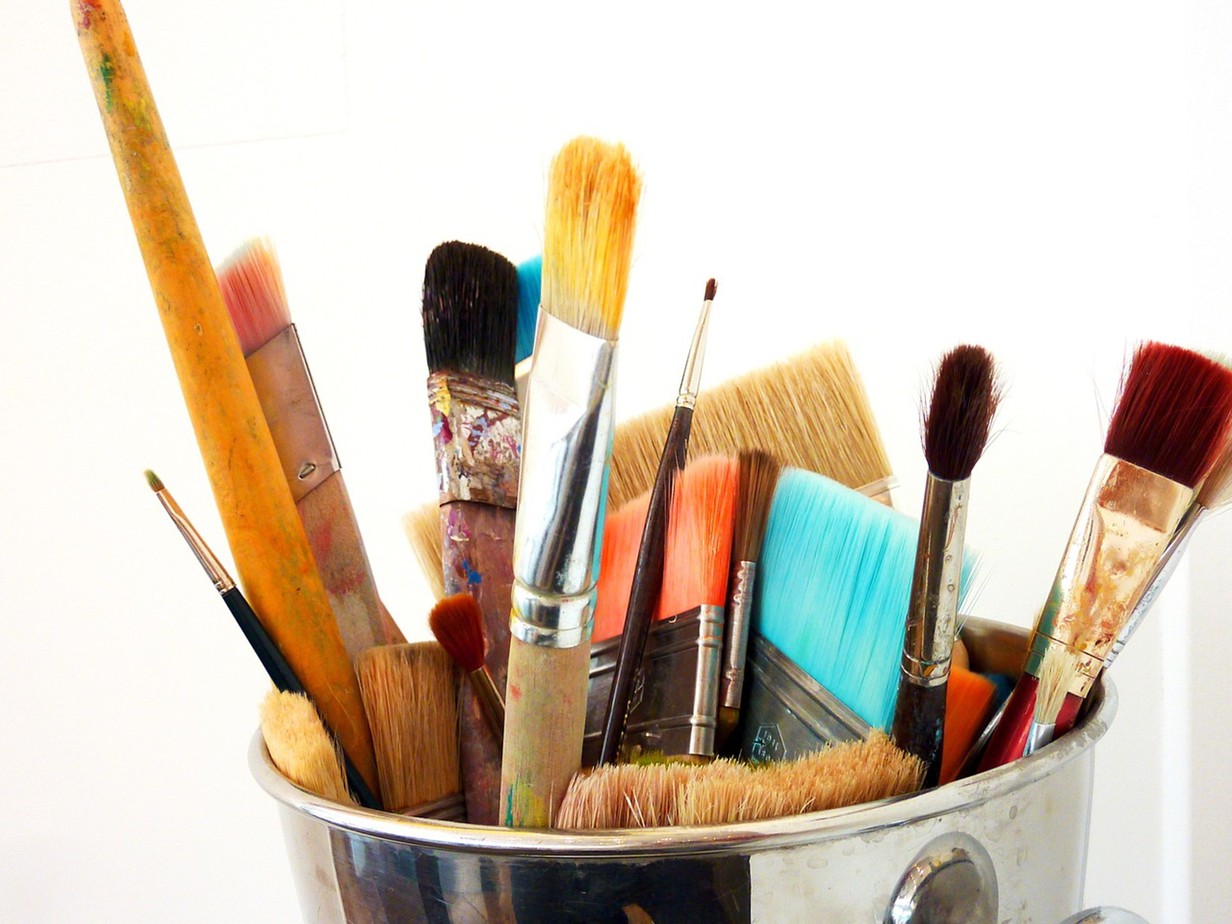 Sometimes, beauty lies in imperfections. And brushes are just the right equipment for creating such imperfectly perfect designs on your pottery piece.
All you need to do is take random brushes of various sizes and use multiple colors to create some random strokes. It would look better if you do it on light surfaces. For that, you can apply a coat of light color on the pottery surface, then allow it to become dry for some time. Now apply those random multidirectional brush strokes to create an immensely beautiful and exceptional outlook of your pottery.
Following are the types of brushes that you can choose.
| | |
| --- | --- |
| Brushes | How do they seem? |
| Round | It comes with round hairs and pointed tips. |
| Pointed round | With a round-shaped narrower tip, this kind of brush comes with a pointed end. |
| Flat | These kinds of brushes come with square and flat ends with medium to long hairs. |
| Bright | These have flat edges with inwardly curved tips with short hairs. |
| Filbert | This flat and oval-shaped brush comes with medium to long hairs. |
| Fan | These kinds of brushes come with flat, round spread hairs. |
4. Do some splatter to make it prettier:
Painting your pot is not at all a hectic job if you know how to do it correctly and creatively. And splattering is one of those easy and cost-effective techniques, which will save a lot of time while bringing out a unique way of painting your pottery.
And splattering works in a great way to create an artistic and graceful look, which adds a lofty decoration to the pot surface. Take painting brushes or toothbrushes and soak them in liquid colors and splatter them randomly by flapping across them.
You can also cover various places using tape to protect those areas from getting stained. After that, use the splattering techniques properly and then remove the tape to get a well-finished look.
5. Lace it up!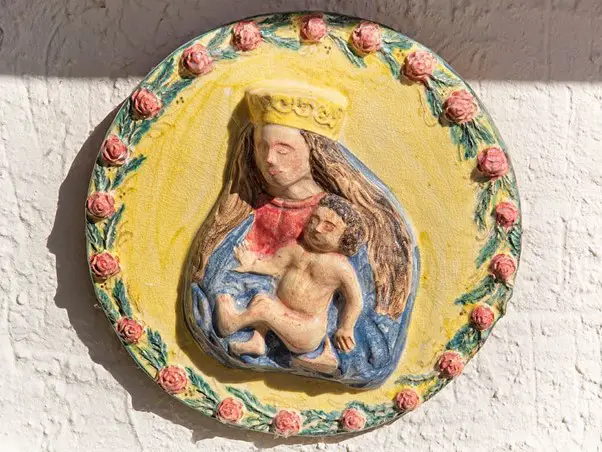 Do you know that lace can be your biggest companion in pottery decoration, apart from being used in sewing garments? Yes, you read that right. All you need to have is a lace to create an impressive and time-saving design on your pot's surface.
As we all know that laces come in a very decorative profile with a transparent design, and we will make use of their transparency to paint the pottery pieces. Firstly, start with wrapping lace around your pot using tape or glue tape. Then, apply some color and paint over the lace-wrapped pottery surface. The color will stick to the bare places, while the covered areas will remain unstained. Once the color gets dry, peel off the lace wrap to get a gorgeous look.
6. You can make a portrait also:
Portrait holds a special place among all the painting techniques. There are no hard and fast rules for painting your pottery. So, opting for a portrait on your pot surface will be a very unusual yet creative pottery painting technique.
Charge yourself with the best portrait ideas that you wanted to create for so long. And then try your hands on a pottery piece. Whether it is your idol's face or a very personalized portrait that holds a special meaning to you, all will be a blockbuster for your pottery decoration.
To bring out a classy and bright outlook, apply a lighter background, and make portraits using black paint. It will undoubtedly look off-beat. Whether you paint it to gift someone or want to keep it with yourself, it will be a very creative idea to add better aesthetics to your pot.
7. What about some fluid art?
Fluid art can be a remarkable way to paint your pottery. If aesthetics is what you love, then fluid art can be an easy option for you to try. Fluid art creates interesting off-beat designs using fluid colors.
Choose a color you want to create the look with. Mix the colors with an adequate quantity of water to create a flowy paint. Make sure you are taking the paint and water in equal parts. Stir the mixture properly and pour one color on top of another. Don't mix the different colors.
You can add more colors to add more layers to the paint. Make sure that the colors are not getting mixed in any way. Take the color-filled container and pour it over your pottery piece carefully while tipping it in the proper direction. Rotate the pottery piece about the axis to cover the entire pot with colors.
Once you are done with pouring the paint, swirl the colors all over the pottery body to let the pretty colorful layers spread out and create a flowy marble-like look. Once you are done covering the entire surface, allow the excess paint to drip off the pottery. Wipe off the extra paint to keep it fuss-free and clean.
8. Geometrical shapes can be a good idea:
Geometric patterns have their own beautiful approach to creating something classy and pretty every time. Multiple geometrical shapes painted on your pottery piece will make it look different yet gorgeous.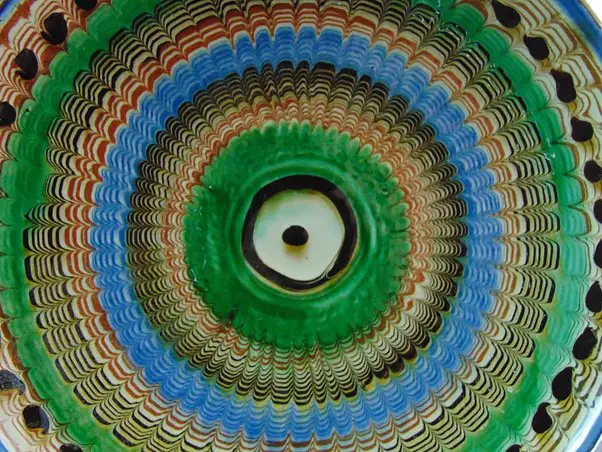 Creating neat and clean geometric patterns with fine, straight lines without committing any mistakes can be an arduous task. However, doing it smartly will make your job much easy. Use the tape masking technique to create a classy and tidy look for your pot.
Stick the glue tapes in multiple directions to create a clean gap within the geometric patterns. Once you are done with uniformly sticking the tapes, fill up the gaps using different colors. You can use one color to fill up the cavities. However, using different types of colors will always create a vibrant and bright look.
Apply the paints evenly in the gaps, and let them dry for some time. Once the pot is totally dry, peel off the tape masks gently to see the beautiful, modern, and clean geometric designs on the surface without any fuss.
9. Take some sponge and color it up: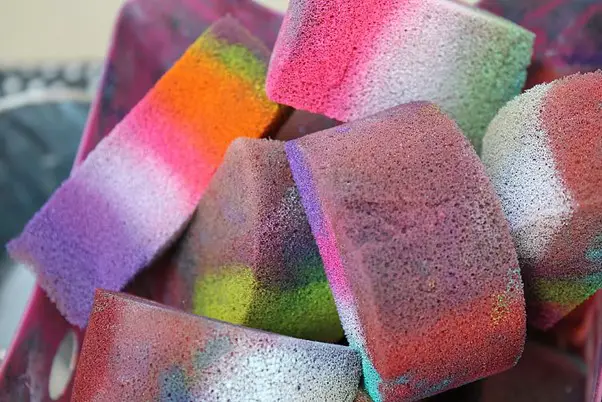 Sponging your pottery can be quite an interesting way of painting. Also, nothing can be easier than the sponge painting technique. Sponges come with a very rough surface, which creates a different and dusty look when you use it for painting on a pot.
Take a variety of colors and dab them gently on the pottery surface. Painting with a sponge allows you to have the best cover near the ridges by applying the paints in various directions to color it up properly.
Whether you use one color or take multiple colors to paint your pottery piece, it will create a very adorable look with a unique and different texture. Try it out to add more variety to your work.
10. Glaze it up!
Glazing is a mainstream way of decorating your pottery items. Most of the traditional pottery decoration methods use the glazing technique to give the pot an intricate and exclusively beautiful look.
Unlike other paints, glazing adds a colorful appearance to your pottery and attributes it to many more characteristics. Whenever you opt for glazing, you allow your pottery or ceramic ware to become more durable and waterproof. Also, it adds an additional coating over the pottery body, which clogs the pores of the pot and makes it eligible for use.
There are no limits to glazing techniques and recipes. There are more than thousands of glazing methods that you can opt for to apply to the pottery piece. Though glazing is not any paint, it is a mixture made from various ingredients, which is applied to the pottery body. Once the pot is fired after applying the glaze, it brings out different colors, shades, and effects that act as an additional natural paint to your pot.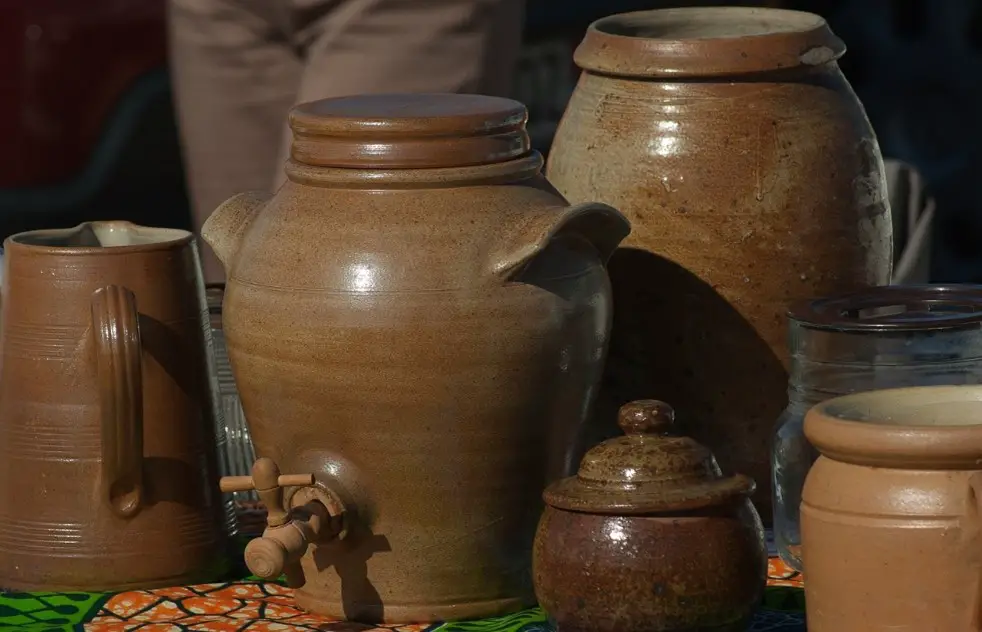 Various glazing techniques create multiple effects like gloss, matte, shiny, etc. All you need to do is choose the right compounds, which would create your desired shade and effect. Also, there are transparent overglazes that you can use to create beautiful glazing on your pottery surface. You can paint the pottery using your favorite, colorful paints and coat it up with a transparent glazing mixture. It will create a very unique and durable look after firing the pot.
It is the most popular and traditional mode of pottery embellishment, so it is a bit difficult and time-consuming. You need to create a mixture with the proper ingredients and whisk it continually until you get a creamy consistency. After that, you can apply the mixture on the top of the pottery surface using a brush. Once the glaze gets dry, you need to fire it to make it lock onto the pottery body permanently.
So, here we have given a sample recipe for preparing your pottery glaze.
| | |
| --- | --- |
| Ingredients | Proportion |
| Whiting | 14.0% |
| Soda Feldspar | 47.0% |
| | 5.0% |
| Calcium borate frit | 16.0% |
| Silica | 18.0 % |
11. Oxide stains to stain the pots:
Oxide stains are a great way to stain your pottery pieces. Using the oxide stains, you can easily create flowing lines on a pottery surface, along with covering up broader areas.
The oxide stains come in commercially prepared forms, which you can use to stain the pots.
This stain uses fritted materials to create strong and safe colors, which are relatively easy to use and apply. You can mix these oxides in your glaze mixture to render a unique look to your pot.
Some of the oxides can change themselves dramatically depending on what elements are used to make them. Take note of the colors that are going to appear corresponding to a particular type of oxide and use them to stain your pottery piece accordingly.
12. Use some spray painting:
Spray painting can be an effective way to paint your pottery piece if you are planning to cover up a large area. Spray paintings are easy to use and readily available so you can opt for them to create a quick yet beautiful design on the pot. There are multiple spray paints that you can choose for quick coverage.
Though the process is a bit fussy, you can easily do it by using some smart techniques. To do it neatly and cleanly, you need to cover those places with tapes where you don't want to stain.
Once you are done with applying the tape all over the places that you don't want to color, spray the paint evenly onto the surface using a spray bottle. Wait for some time to let the paint become dry and peel off the tapes to get a perfectly designed look for your pottery piece. You can use Rust-Oleum 249090 Painter's Touch 2X Ultra Cover to give a pretty and smooth finish to your pot.
Conclusion:
Thus, here we have discussed multiple ways of pottery painting that you can choose for an easy and quick decoration for your pot. Adorning your pottery piece is all about experimenting with various painting styles and techniques. If you know more painting methods, you can easily apply those to create an impressive and stunning look. Let your inner creativity explore the different ways of expressing art. Majestically paint the pottery to let others go mad over appreciating your skills all the time.
Happy sculpting!