As a creator, making your pottery look like a presentable work of art will enhance its worth. Paint is frequently utilized to improve the aesthetics of pottery. It brings an additional effect to the overall work on the surface of the pottery. In addition, painting your pottery will give it more character and allow you to insert designs more accurately.
However, potters rarely use conventional paints to achieve additional colorful effects on their clay pottery pieces. Instead, several painting methods let you use the colors you have in hand to produce various textures or effects. A well-liked method is an antique appeal to your pot by giving it a cracking paint effect.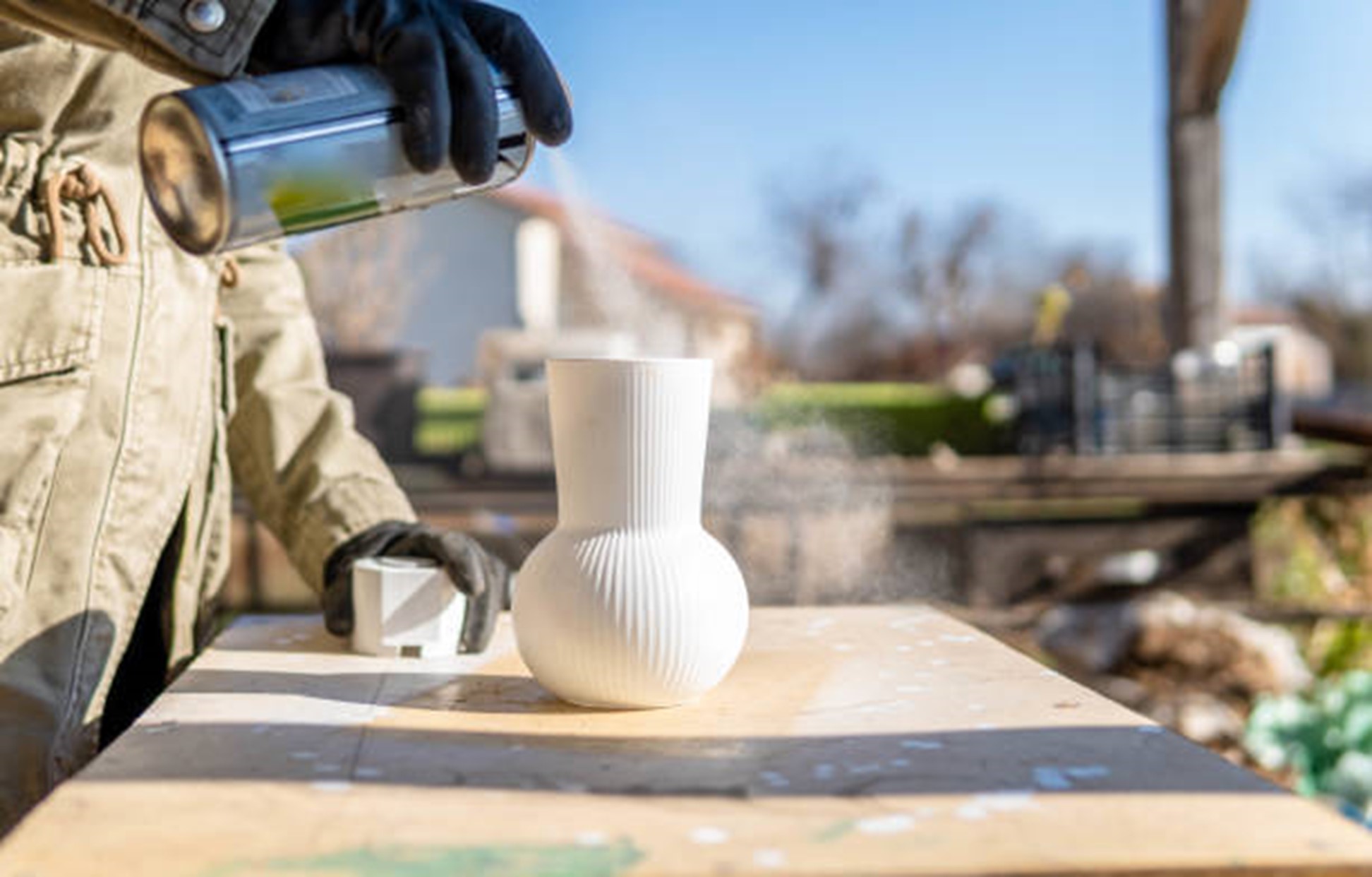 Crackle spray paint can help you achieve this effect on your pottery. So, here in this article, we will discuss everything about crackle spray paint for ceramics and the best one you can choose for your project.
Crackle Effect With Spray Paint
Using the crackle painting method, you can make the painted surfaces of pottery appear old and worn. Thus, it gives the pot body a unique look that adds to its appeal. Almost any surface may be given a faux finish by adding a coat of glue or crackling medium between two layers of latex or acrylic paint.
However, it is best to use spray paint to achieve the effect on ceramic surfaces. To allow the base coat to shine through, crackle media creates large and small fractures or cracks in the top layer of paint. As a result, it resembles a transparent paste and is paint-like in texture.
Crackle paint techniques give your pottery items charm, character, and a vintage look. It appears to be painted, but when it dries, it cracks, making the surface appear worn-out, aged, and distressed.
If properly applied, the paint's crackling component will simulate the signs of age, and no one can tell the difference between a real and an artificial one. You may pick from a broad choice of crackle spray paint colors.
Rust-Oleum 249060 Painter's Touch 2X Ultra Cover
You must use the correct technique to spray paint ceramic for a crackling effect on the surface. First, however, you need the best product to get the desired effect on your pottery. Rust-Oleum Painter's Touch spray paint can give a beautiful crackle effect on your ceramic. Using Double Cover Technology, Painter's Touch 2X Ultra Cover boosts the effectiveness and efficiency of every pottery project.
| | |
| --- | --- |
| Brand | Rust-Oleum |
| Model Name | 249060 Painter's Touch |
| Paint Type | Enamel |
| Color | Semi-Gloss White |
| Size | 12 oz |
| Item Form | Aerosol |
| Coverage | 12 sq ft |
| Package Dimensions | 2.63 x 2.63 x 7.88 inches |
| Weight | 13.6 ounces |
Features Of Rust-Oleum Spray Paint
Here are some of the features of this product that make it the ultimate choice to bring the crackle effect to pottery.
Enhances Aesthetic Appeal
The spray paint has a rich color that instantly enhances the appeal of your ceramics. The rich, vibrant color applies smoothly to the surface, giving a smooth finish. Combined with a crackled effect, it provides a classic look to your ceramic surface, making your finished product look antique and exclusive. In addition, the lasting composition of the product offers good concealment and applies easily.
Offers Quicker And Double Coverage
Double Cover Technology takes less time to apply without compromising quality. You can finish your projects quickly and get the desired crackled effect on your ceramics within a short amount of time. It covers up to 12 square feet per can and dries to the touch in 20 minutes. Application in difficult-to-reach places is simple with the Any Angle Spray of the can. Using this spray paint, you can easily paint the nooks and corners of your ceramics.
Gives No Strain On Your Fingers
Spraying is simpler and causes less finger strain with the comfort tip's large finger pad. You can easily spray paint a large surface without enduring stress on your fingers. In addition, the finger pad has a comfortable grip, making your work easier and more comfortable. You can also paint pottery surfaces without worrying about slipping and blotting your work.
Renders Long-Lasting Effect
This spray paint offers a long-lasting effect on your ceramic surfaces. An oil-based solution provides low-odor, chip-resistant, and long-lasting protection. You don't have to worry about the paint peeling, cracking, or the pungent smell of the paint. It dries quickly and lasts longer on your ceramics. The strong and protective features of the paint make the surfaces tough against the elements. Make your projects last much longer with this durable, highly efficient spray paint.
Allows Usage Inside And Outside
The paint is ideal for exterior and interior surfaces, such as unglazed ceramic. You can easily use spray paint inside and outside of your ceramics. After all, the product is suitable for use on any part of your pottery. The various finishes and colors allow you to give a unique appeal to every part of your ceramic surface. Surfaces with a semi-gloss finish have a gentle sheen when using this product.
Spray Painting With Rust-Oleum 249060 Painter's Touch 2X Ultra Cover
Here are some tips to consider while using this spray paint. It will make working with the product even easier and smoother.
Shaking The Can: Once the mixing ball starts to rattle, shake the can for a full minute. Then, shake it frequently as you use it.

Holding The Can: Hold the can 10 to 16 inches away from the surface and spray in a back-and-forth motion, gently overlapping each stroke.

Coating The Ceramic: Use a minimum of two light layers spaced a few minutes apart for optimal effects.

Cleaning Clogged Valves: When a valve clogs, twist and remove the tip before cleansing it with mineral spirits.
Conclusion
Every craft must have some aspect of visual appeal, which is valid for pottery, too. Techniques such as crackling finish for aging or antiquing pottery have grown in popularity. If the antique ceramic you are looking for is unavailable, you can always make one yourself. You can even revamp an old ceramic with crackled spray paint to make it stand out.
Crackle finishing is a unique approach to giving the appearance of old, weathered paint and providing a unique aesthetic to your ceramics. Choosing the right spray paint for your ceramics to create a crackle effect is essential. So, the Rust-Oleum 249060 Painter's Touch 2X Ultra Cover can provide the best result that can last long.