For those of us who are beginning on the journey into pottery, you need the right supplies. Did you know that these supplies are easy to find though? You can buy these off Amazon if you really want them, and they're simple, yet effective and get the job done. This post will discuss the pottery tools and supplies that you need, and where to get them, along with further information on how these tools can help you become better at pottery, and some important elements for you to try out.
Pottery Wheel
If you're going to be throwing pottery, simply put you need a wheel. We already talked about some of the best clay that's out there, but what good is clay if you don't have the means to throw it? Well, that's where the wheel comes in.
You use the wheel to shape many different items, including the following:
Bowls

Cups

Vases

Round Objects that are decorative
If you're going to get a pottery wheel for anything round, you should consider splurging if you know you're serious about it. My personal favorite is the US Art Supply Table Top Pottery Wheel with an LCD wheel speed display. If you're willing to pay 500 for this, you'll be getting a really good item for a killer price.
Some of my favorite features of this include the following:
It comes with a foot pedal, a bat that's 11 inches

It has a reversible speed direction

You can use this at any skill level, whether you're a

beginner

or a professional

It's really strong for a powerful unit

Can be used for both righties and lefties

It has an adjustable LCD display that allows you to control it with a knob

It is

a super

heavy-duty, but it's also portable

Comes with a ¾ horsepower motor

Can hold up to 25 pounds of clay
This is a great one if you're going to be doing lots of pottery, but again, the price is a bit steep. However, if you're serious about pottery, and you want to really benefit from this, you'll be able to use it quite easily.
If you're going to be using firmer clay, do be careful, since it's really good for softer clay. You can rotate it in different ways, and you need to hold your foot onto the pedal itself for the best results. It's a good wheel for the type of work you'll be doing, and you can get it here.
The second wheel that you can check out, is the Speedball Portable Artista Table Top Pottery Wheel. This one also comes with a wheel head of about 11 inches, and it has 25 pounds of clay centering capacity. This is another good portable one, mostly because it can be used for many different types of pottery items on the wheel.
Some of the highlights of this include the following:
Can be used to both

stand-up

, or sit down

It has a splash pan that's two parts to it

It is made with high-impact plastic and steel construction

Allows for 25 pounds of clay holding

The materials used are industrial quality, allowing for dependability that you can count on

It is good to put in spaces where there is limited placement, or if you need good storage
Click Here to Read Owner Reviews on Amazon.    
If storage concerns are something you need to worry about, then this is definitely the one for you. You can even keep this outside with plastic covering if you need this. It's got both a dial and some foot pedal speed, and you can change this. It does take a bit of practice to use, but if you try this, you'll be able to really get a good speed on this machine.
This is another great pottery wheel, and you can check it out here.
Pottery Kiln
The next item that you will need is a pottery kiln. This is how you bake your pottery, and if you've ever considered making items to fire, you should consider buying one of these.
Now, you can go to a studio and fire your own pieces there, but there is actually a lot of good elements and benefits that come with firing your own pottery at home, and they include the following:
You can fire it once it's leather hard

Allows you to work with different types of items

Some of these kilns are small, but definitely, are very strong

Lots of times, you can control the temperature as well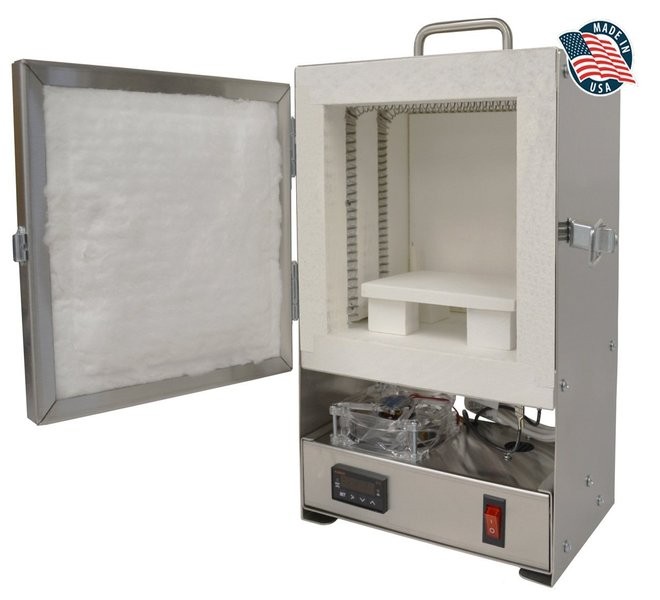 There are lots of benefits to having a kiln, and lots of times, you just need to make sure you know how to use it. One of the best kilns that you can get is the Rapidfire Pro Electric Kiln with Digital controller. This is one that's good for not just ceramics, but if you're someone who is interested in jewelry, you can totally use this. It's a super nice kiln, and for less than 500 dollars, you can have this right at your disposal.
Some of the key and notable features of this are the following:
It only weighs about 12 pounds, and it comes with a carrying handle

You can rapidly heat this up if you want, but you can also slowly heat it up

It heats up to 2200 degrees, which means that you can fire most stoneware and earthenware products, not ideal for porcelain

It has a large firing chamber

Has a front-loading door to make it easy

It has a digital temperature controller, which means you can slowly heat this up

It's ideal if you're thinking about getting into using a kiln to fire your products

Super easy to use, and many enjoy it.
Click Here to Read Owner Reviews on Amazon.    
It does work in the exact way that you want it to, and since it's got a stainless steel finish on it, it protects it more. It's also good, because it has a thick facing on it, meaning that it can handle a lot. You may notice smoking that happens. It's the insulation, but it's not too bad. It's a portable furnace that works great to help heat and fire the projects.
There is another kiln that, if you're willing to pay about double the price for more room, and better heat distribution, then this is the one for you. It's called the Delphi Ez Pro 15-6 kiln and it's a great one if you do feel like spending more. Some like to spend more on their kilns because it means that they'll get more out of it, but here are some notable features of this:
It comes with 16 pre-set programs

Has 22 different custom programs

Allows for the top and side-firing parts to give heat distribution that's even

Has a fast heat up, and a longer life than most kilns

Does have shut-down relays and safety lights in case there is an accident

Has a 2-position lid prop for venting

Has a huge firing chamber to get multiple projects done

Comes with a kiln stand, the posts, the shelf, and the shelf wash, so lots that you can do with this
It's a good kiln, and everyone has said that it's a good kiln if you're looking to have a more professional piece for firing your products.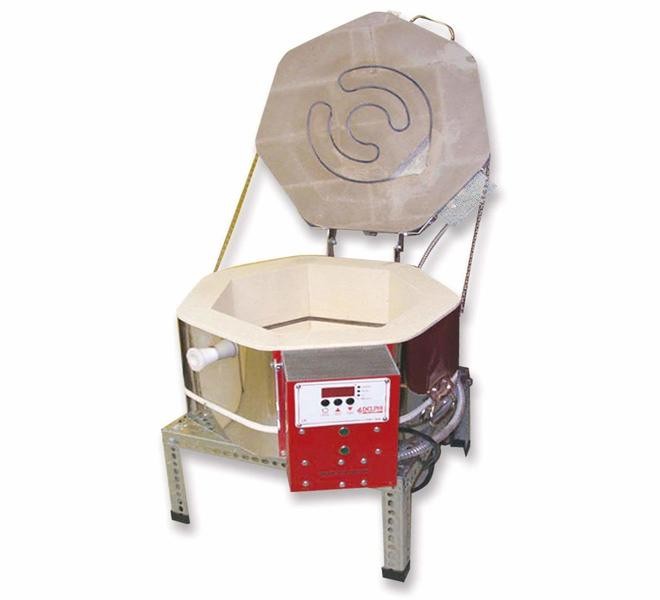 Tool Kits
If you're getting into pottery, and you personally feel like you're not sure about what to get, the best thing to do, is to get a toolkit. Now, these are usually very basic, but if you're a beginner potter, these are ultimately the way to go, so you're going to get a whole lot of different things all in one location. Some of the benefits of these include the following:
You get a lot of different tools, usually the essential ones

Can be used to craft, cut, decorate, and sculpt

Despite usually being a cheap price, they're usually high-quality tools made with stainless steel and hardwood

Allows you to make many different items with these
You can get a lot of different tools in these, including many helpful ones. Some of the tools that you get include the following:
Tools to carve

Ribbon tools to help with creating shapes

Wire cut-offs to help with lumps

Wire tools to help you get clay off the wheel

Knives to cut shapes
And so much more. A really good one is the 8 pcs Pottery Tool Set kit listed here. This comes with eight basic tools, used to cut the pieces, shape them, and smooth them. The best part is that these tools are only 6 bucks in total so if you're a beginner, you'll get them for a relatively cheap price, and they work great.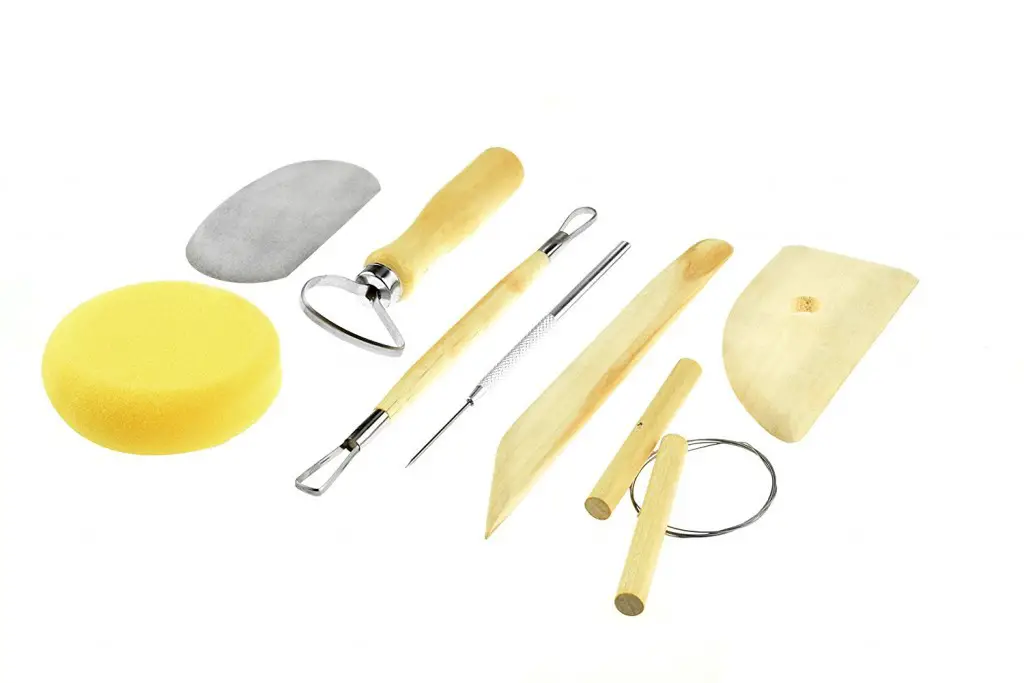 Click Here to Read Owner Reviews on Amazon.    
Now, if you want something with a little bit more to it, the US Art Supply 26-Piece Pottery & Clay sculpting toolset is the way to go. The cool thing about this is that you're able to get so much with this, and it comes with a wide variety of items that can be used with sculpting. You get tools for many different items, and you can use this for air-drying clay, polymer clay, and even regular ceramic clay.
Some of the great items in this include the following:
A Potter's Rib

Modeling tools

Metal Scraper

Wirecutter

Scrapers

Ribbon and Need Tools

Loop Tool

Sponge

A cleanup and retouching tool

Modeling tools

Needle/Lace Tools
The good thing about this is that it all comes in a great little carrying case, so you're getting everything. Plus, it's super easy to use, so if you want a basic kit, this is the way to go. Plus, it's less than 20 bucks, so it's not like you're really going wrong with anything related to this.
Clay Sculpting tools
If you just want to have clay sculpting tools right at your disposal, then this is the way to go. If you want to learn how to make details, then clay sculpting tools are really the best thing to have. You can do many different things with this, including the following:
Create indentations and details

Allows for blending

Can help with painting and adding details

Is good for if you're painting pottery

Good for making different details to help clean up a piece
The best kind is the Ejubas sculpting tools, which you can get here. This is a great set of tools, and they include a whole bunch of DIY indentation tools and other amazing features. You can find out more of the details on this below:
Very versatile series of different tools

Has different and flexible tips to help you with more projects

Allows you to paint both large and small size of details

Can shape your clay in an effective manner

Very versatile for all sorts of different projects

Super easy to clean

Has a very fluid means to spread the detail work on the piece
Click Here to Read Owner Reviews on Amazon.    
If you've been considering getting some sculpting tools, then this is the way to go. If you feel like you need to improve on your pottery skills, then definitely consider getting one of these. They're useful, and they do help with details.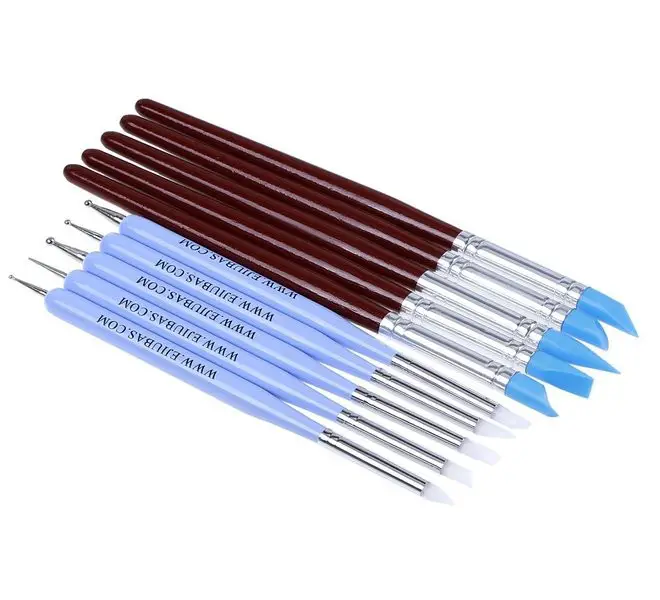 Glazing Ball
A tool that's often a bit underrated when it comes to managing your pottery supplies is glazing balls. This sounds like it wouldn't really be useful, but if you ever wanted to really take your pottery to the next level, this is a great thing to have.
The benefits of a glazing bar are the following:
Allows a very precise means to glaze something

Can be used to precisely decorate or add details

It is very easy to help clean up if you mess up

It's great for slip trailing, painting, or other decorative uses

It is good if you want to write something on a piece

It has a very easy applicator to dispense it, and it works well if you're going to glaze the item
Click Here to Read Owner Reviews on Amazon.    
This is a very underrated type of pottery piece, and it's one of the supplies that you should definitely consider, especially if you're going to be glazing a lot.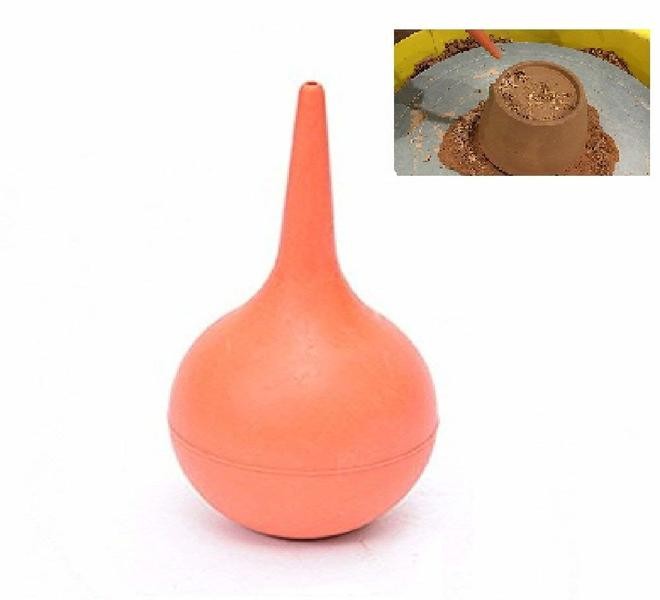 You can get a really good one that's pretty cheap, only a few bucks, here. It does wonders, and it can change your ability to really make items.
Rubber Rollers
If you're wanting to decorate various pottery items, and you really feel like you want to make it easier on yourself, then rubber rollers are the way to go. They're a great way to throw designs down on a piece of pottery, and it's something that many times, it can help you, and it's a very useful piece for pottery making. It is awesome because they usually come with intricate designs that are able to be used on bisqueware.
The ones from Amaco are really good, and all the customers have said that they are good if you want to showcase the patterns. Some of the benefits these have included the following:
They create continuous images in clay

They're durable, but also super easy to use

They can be used on patterns, along with

bisqueware

The design will stay even when you fire it

It's super easy to change out the heads

Comes with some cool designs

They are super easy to use, and they are able to be used on different pieces of art, including tiles, vessels, and other pieces of art
If you want to really take your art to the next level, then this is the way to go. You'll be able to utilize these easily, and since they're decently-priced, they're great if you're someone that doesn't like to continuously apply images again and again.
Click Here to Read Owner Reviews on Amazon.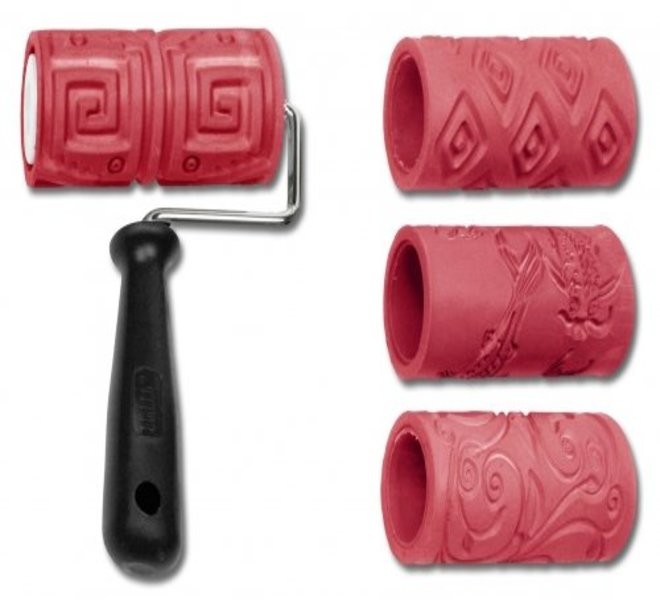 Adhesives
Finally, we have adhesives. Adhesives are super important, especially if you're the type that tends to mess up on pottery, or maybe you have children around that drop the pieces easily. The best kind is E6000, but the biggest thing to remember is that this is actually very toxic, so don't use this in a location that has poor ventilation.
When it comes to choosing a good pottery supply adhesive, the best one I've found is on amazing here. It comes with different elements including the following:
The glue itself, which is actually a decent amount

Snipping tools and an applicator for it

Dotting tools to use on this

Dotting tips to help you make the right dot
With E6000, you're getting a glue that's versatile for lots of projects. Ideally, you should use this for pottery making, but it's got a pretty fast cure time, and you can typically get a lot out of this. This is also good if you want to add some extra little elements to your pottery. Some people like to add different decorations, and these all work with E6000 including the following:
Wood

Metal

Glass

Beads

Other decorative items
The glue is made t last, so it's not like you're getting something poor in terms of quality out from this. It's also waterproof too, so if you use this on something that needs to be washed, you can get a lot of great benefits from this as well. It also works if you're drying it since it's made to lat and such.
The dotting tools are perfect for fixing up your pottery. The dotting tools make it so that you can easily dot the area, which is an integral part of actually taking care of your pottery, and putting it back together. With the dotting tools, you can directly place it onto the pottery, and then evenly apply it so that you're able to get a good result from this. The dotting tips are also good, and it's nice to have since you can get it into very tight spots and the light.
With E6000, when you put it on, it will last. It's good for multiple projects, but in my opinion, it's the best one for fixing pottery that is broken. That's because, it usually is able to last, and it works with any sort of working condition that you may have.
You can get a full kit of this for less than 20 bucks from the link above, but if you're looking to truly master pottery, sometimes you gotta be ready to have the spills and other such elements ready for you to take care of. It's best to make sure that you're able to do this, and if you do have a spill, crack, or whatever, it's imperative to have this around, since it can fix the issues relatively easily, no matter what it may be.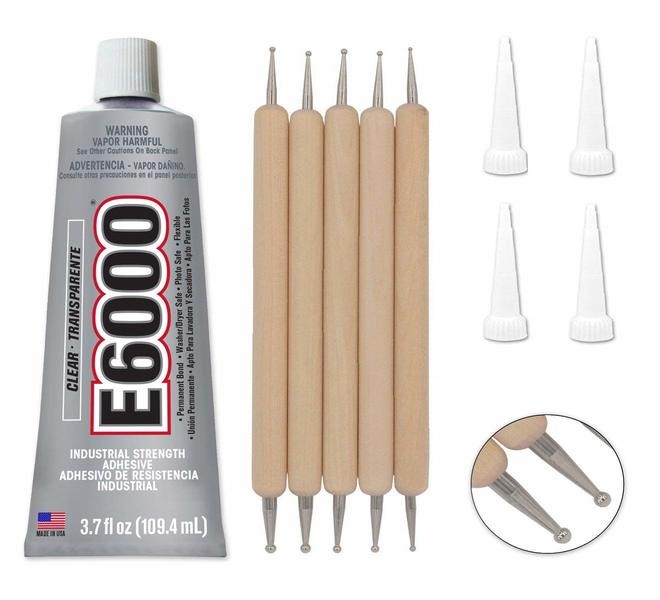 For many people, pottery supplies are vast. I do suggest getting at least the first few items mentioned here. Obviously, you need clay, and if you're going to be throwing, you should get a wheel, but do consider investing in different items that work for you. For many people, pottery tools are a bit complex, but if you want to get into pottery decorating, I do suggest the toolkits. These are all helpful supplies though, and if you're wondering what, to begin with, get the wheel and the kiln, and from there build it up. You'll be able to have a pottery empire relatively easily, and if you spend a little bit of money on each of these, you'll be able to totally make this work, and it will allow for you to create amazing designs that work wonders for you, no matter what the odds may be.