Firing pottery is something most experienced potters start to do once they've handled the basics of pottery. But, kilns tend to be an investment, and you may wonder just what is the best kiln for you. I tried the KM818 kiln, and I have to say that it's one of the best kilns on the market, and if you're willing to spend the money, it's certainly worth the investment.
Allows you to Write Your Own firing Programs
Probably my favorite part of this kiln is simply how sophisticated this is. Now, this isn't your basic kiln, but rather, it's a sophisticated, but simple kiln to use. The versatility of this is really where it shines.
With this kiln, you get the following:
32 different segments of firing programs

Can store up to 12 customizable programs

You can use the Ramp and Hold features to make different processes

Also has factory-set programs that are tried and true, such as ConeFire Mode
What I enjoyed about this kiln, is the fact that you're getting a kiln that can do a whole lot. So, If you want to fire pottery at differing temperatures and cycles, guess what? You totally can. You don't have to worry about whether or not the system can handle it, because it can. It's a high-quality kiln, and certainly worth investing in.
Has Balanced Elements
It also contained balanced elements. This is a big part of a kiln, because many times, you don't know how much heat you're putting into this. But, since this is a Skutt kiln, it contains a balanced elements system. So what does that mean for you? Well, it means the following:
The heat is directed to the elements rather than the lid of the kiln

The grooves allow for more flexibility and trap the heat of the pottery so that it fires better
Lots of the competitor kilns that are out there don't do this. Rather, they're designed to let heat escape the kiln. This is a problem because it poses the following results for those who use it:
It takes longer to fire

It might improperly fire

Some areas might not be fired as well as other areas
If you're a potter that struggles with getting an even fire on all of the pottery you're making, then it might be a great investment. This allows for a balanced and very simple means to transfer heat to the ware, and in turn, it can allow you to build better pottery that sticks around.
Pottery firing isn't just throwing it into the kiln and randomly choosing a temperature, but rather there's a science to this. If you're wondering why your pottery may have issues firing, it might be the quality of the kiln itself. This kiln works to keep the heat in there so that it can fire pottery accordingly.
I love this kiln cause I never have to worry about pottery being underfired, and I've never taken out a piece of pottery from this kiln that was wet once this was done. A lot of the cheaper kilns tend to suffer from that, but this one gets the job done, and with programmable settings, you can fire to your own desires.
Allows You to do so much
I use this kiln primarily for pottery. After all, that's my end goal for this. But, if you want to try a wide variety of different other projects, you totally can. You can control what the kiln does, and with the 12 customizable programs, you can keep the programs you were doing for a project before in there, allowing you to access this right away.
I love it, cause many times I'll fire something super awesome, only to forget how I did it the next time. I love repeating projects and creating beautiful work that others can enjoy. With this kiln, I can do so much, and that's one of my favorite parts about this. I don't feel limited in my ability to create amazing works, and I can take my skills to new levels.
So what can you do with this? Well, here are a few ideas:
Fuse glass

Dry pottery

Slow cool cone 6 glazes

Grow crystals
Yes, you can take a glass and fuse it together with this. It's perfect for low to medium-range firing projects. I don't think it's good for porcelain due to the temperature ranges, but if you can get it to work with porcelain, then you can definitely use this for that. It does well with single-phase pottery, so if you need multiple phases it might not be ideal. Though you can always play around with the settings, and if you're curious about whether or not it will work for a project, you can try. It's super easy to set up, and the range of projects that you have are practically endless.
A Bit Pricey, but You're getting a Lot of Power
There is one point I do want to touch on, and that's the price. you'll probably wonder if it's worth it, simply because of the price tag. But, I do suggest this pottery kiln for those who are serious about improving their pottery skills, and who want a high-quality kiln that will do the job and then some.
For beginners, I would say play around with a smaller, more basic kiln first before you move on this one, because it is big, and is an investment. You should be mindful of what you're doing and know how to fire basic pieces.
But, for those who know their way around a kiln better, this is perfect for you. you're getting a lot out of this, and there are so many amazing features that are worth trying. You can really do a whole lot with this, and if you want to expand upon your skills, this is ultimately how.
Some features this has included the following:
240 volts, so not super strong

Works in single phases

Has 27.8 amps of power

2.6 cubic feet of kiln space, so about 17-17.5 inches of usable chamber space

Fires up to cone 10

Can be plugged in with a kiln
This kiln should be set up in a space that isn't around anything flammable due to the fact that it is very hot and can fire to high temperatures. You can always get an electrician to hardwire the kiln to an electrical panel or the wall power too, in order to ensure the highest levels of safety possible.
But, if you're someone looking to better their skills, and truly want to ensure that they get the most from this, then this is the kiln for you. you're given a lot to work with, which is something that a lot of potters appreciate.
While it is expensive, you do have to remember that this isn't a kiln for someone who is just starting out pottery. Rather, if you've messed with firing pottery for a bit, have worked with the kiln your teacher has at the studio, and want to get one for yourself, then this is ultimately the way to go. The fact that this can fire to high temperatures is great, and you can use this for virtually any type of pottery you want.
Perfect for Medium-Fired Pottery
When it comes to firing pottery, this is a great kiln for it. That's because, it can fire to medium ranges of pottery, or about cone 10. So if you're looking at firing stoneware, or even just firing some earthenware, this is the perfect kiln because it can handle firing at those ranges.
That's what I love about it. The fact that it fires at such a decent range, and can fire it to completion easily and without any problems is something that I love about it. I did try it with some porcelain, and if you're looking to fire porcelain at a lower range than the high-fire ones, this can work, but since it does only go up to 2350 degrees, some of those really high-firing ones might not be your best bet.
But, you can make so much with stoneware and earthenware that it really doesn't matter. Plus, if you're thinking about setting up a studio in your home, this is the perfect kiln for it. I love it, and even though it doesn't fire the really high-firing porcelain, it's still a worthwhile product, and I noticed that when I used this, I got some amazing results from my endeavors. It's amazing what this can do, and everything that it can create.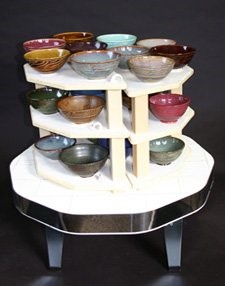 I got this kiln after hearing from a friend that it works wonders. I was hesitant, obviously because it's very expensive, but after buying it and firing my first piece, I was hooked. I learned how to program the settings on this, and from there, I fired my first piece of pottery. From there, I started experimenting with other settings, and I saw that it worked amazingly. I was definitely happy with all the results that I got, and I learned as well from this that if you do want to make your own custom program, it will remember this.
My Story with it and Some Feedback
Overall, I highly recommend this for people who want to do the following:
Make higher-end pottery

Need a bigger kiln to accommodate the number of projects you have going

Want to have your own kiln so that you don't have to travel back and forth to the studio

Want to really invest in your pottery and make it grow

Are working with many different mediums
I found that it works well if you have that kind of mindset, but if you're just beginning, the price tag might be a bit too much for what you're looking to pay for it.
Not many have gotten it, probably because of the fact that it's expensive, but one reviewer said that it was a "good product."
It is a great kiln if you're looking to try out new and amazing projects that will test your ability. But, if you're on the fence about it, perhaps look into doing more pottery first before you invest in this one. I have had some great successes as a potter from this, and I know that, with this product, you'll be able to create some beautiful pottery, and if you have a wheel as well, this is also a great addition to your pottery studio.
Try it Today!
This five-star pottery kiln is one that gets the job done, and while it is costly, remember that pottery isn't just a one-time ordeal, it's an investment you must consider if you're looking to get serious about this. I learned a lot from my adventures with pottery, and this kiln has done some amazing things with my pottery, in that I was able to dry amazing pottery with some cool glazes on it, and I also was able to fuse glass for my glasswork together too. Overall, it's a neat product, and I highly recommend it if you want a kiln that does the job for you, and one you don't have to sit around and babysit all that much. It is best if you stay while it fires, but it doesn't require the babying that other kilns might have.
With this pottery kiln, you can take your pottery to the next level. Remember, it is an investment and a process, and you'll learn that, as you continue to fire more and more pottery, you'll be able to use this and get more out of this kiln than you thought possible. If you want a high-quality kiln that you can fire with, then you'll be able to use this today and create some amazing pottery with it.