If you're looking for pottery tools, sometimes finding the right set can be annoying. You want something that works for you, and one that contains high-quality tools that you won't have to replace frequently.
We did a lot of searching, and after much deliberation, we've found the best pottery tool set on Amazon that you can use for a wide variety of pottery activities. It has everything you could ever hope for, and tools that will make your pottery skills come to life.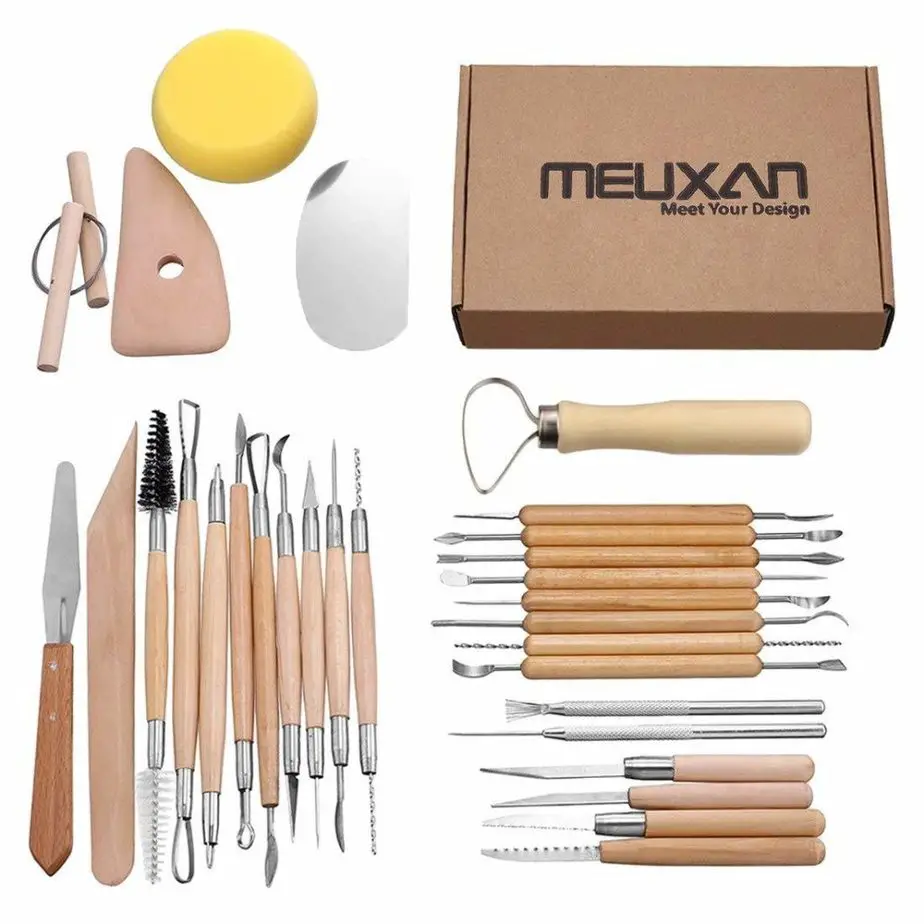 What to Look for in a Pottery Tool Set
Pottery tool sets involve a few factors that you should consider.  Some of these important factors include the following:
What contents they have
The tools inside it and their capabilities
The grip on them
How much wear and tear they can withstand before breaking
The durability and the ability to last a long time
Whether they fit your skill level or not
Some potters run into the issue where they get kits that are too complex for them or ones that don't contain what you need.  However, there is one on the market that does the job and then some, and that's the Meuxan 30 Pcs Pottery Tools Clay Sculpting set
Why this Set?
The Mexican pottery set is one of the best on the market currently for a variety of reasons.  Some reasons why people choose this set includes the following:
The contents
The usefulness of them
The extended range of use
The price that this is
The fact that you can grow into this set
This is the kit for those looking to carry all of their pottery tools around in one place and will help you a lot.
If you want everything that's nearly put in a package you can use, then this set is perfect for what you need.
It contains all that you need
The first plus point is all of the essentials you get.   There are so many, and here we'll talk about a couple of them:
Click Here to Read the Reviews on Amazon.
Cutting tools
Carving tool
Detailing tool
Curved tools
Needlepoint tools for details
Metal wire brush tool
Drill tool
Scraper
Incision tools
Wire cutter
Ribbon tool
Sponge for smoothing
Forked and curve flat tools
Potter's Rib
There are over 30 pieces in this case, and that means you're getting an insane amount of items for an amazing price.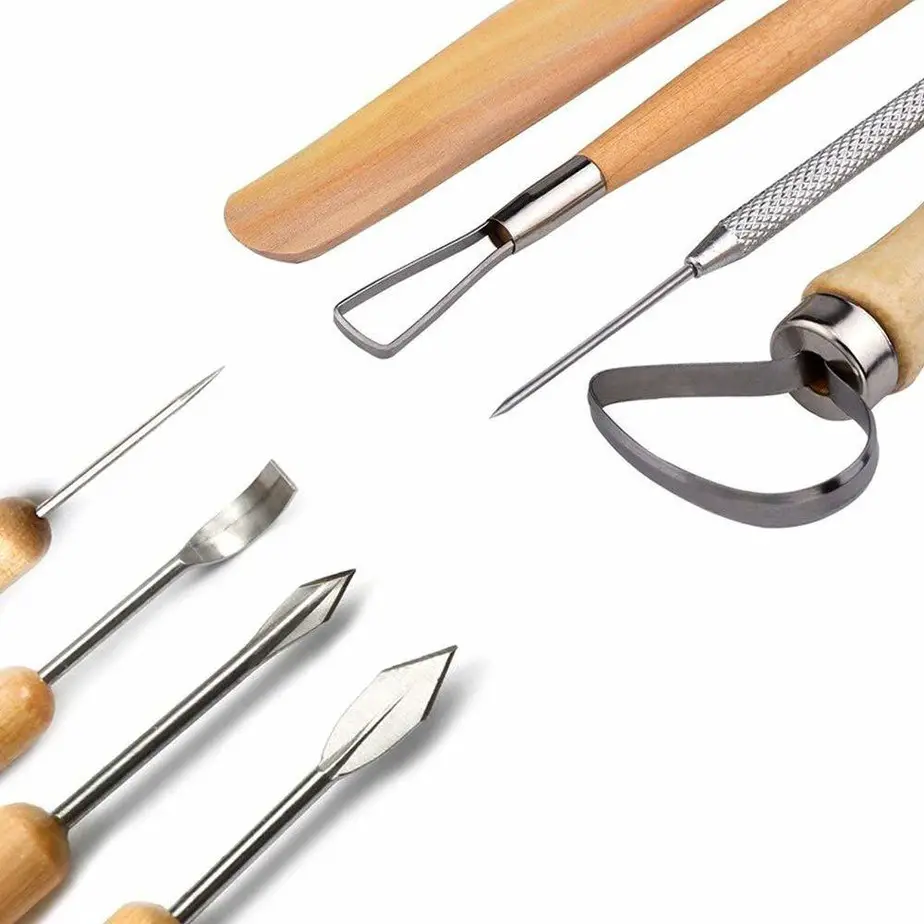 Comes with a case
The best thing about this is that it does come with a case you can use. If you want to have everything in one place, for two bucks more, the case is what you want.
It can hold all of these pieces easily, which means you'll have a case that you can take around
This is perfect for those who:
Travel to pottery studios
Tend to lose pottery tools
Like to have everything in one place
The case is worth it, and if you want to splurge, this is a good investment
Does have the durability you're looking for
This kit is also durable, which is astounding for the price that you're paying. It creates a long-lasting tool for anyone to use.
Some features that help it last longer include:
A double-sided design
Different shapes and uses for each tool
It's made of long-lasting wood along with stainless steel
The two sides can each be used, doubling the use of it
So, if you get this you won't have to buy another kit anytime soon, that's for sure.
Is great for anyone Beginner to Veteran
If you're new to pottery, this is a great kit.  If you're a veteran potter, this is also a great kit.
Why is that? Well, it includes the following attributes:
The tools are easy to hold, so you're not struggling to grip them
They're smooth tools that fit right in your hands
They're comfortable to hold
That means, anyone can really benefit from this, whether they are just starting out, or if they've been making pottery for years.
People love them!
Lots of reviewers enjoy this pottery kit, and for the price that you're paying, it's worth it.
Some of the reviews for this do include the following:
It worked amazingly for what I needed it for. The pieces were unique some I hadn't used before and they were decently made. For the price and what you are getting it can't be beaten!
I do have my favorites but they are all very helpful in doing different things when working with my polymer clay during sculpting. I've had no problems with durability. Great for those getting into clay work or someone that has been working with clay for years! Very reasonably priced.
Perfect starter kit and must have for a beginning sculpting/ceramics class. Has almost everything I need and at such a good price! Save your money buying individual tools and pieces when you can buy this kit instead for cheaper!
These utensils are perfect for my clay! I am so happy by the diversity of tools and all that I can do with them. Very well made and a satisfied purchase!
So yes, if you want a worthwhile kit that will stick around and can be used for a variety of projects, this is your best bet due to the amazing array of different uses you can get from this.
People love them, and for a little bit of money, they get the job done and allow you to truly create the best pottery possible.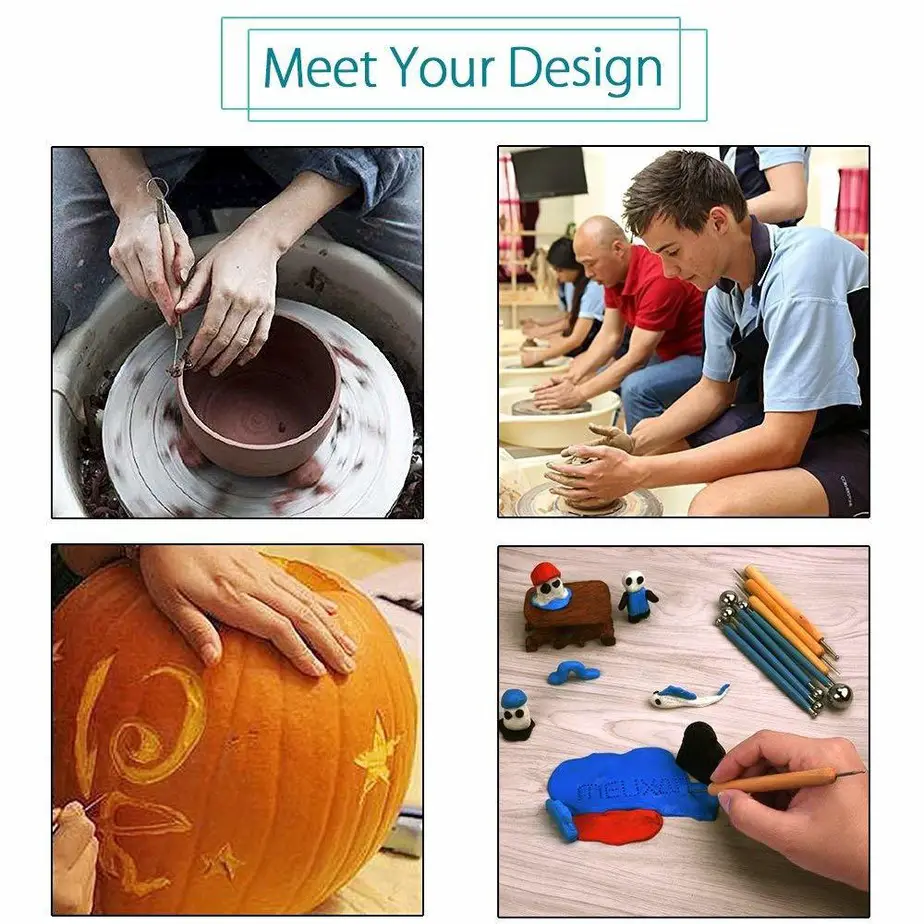 Make Your Pottery Really Shine!
You definitely don't want to sit on this, since you can make your pottery stand out with these!
Don't settle for poor-quality tools, since this is the best kit available.