Today, air-dry clay is a popular choice among crafters. It is similar in functionality to traditional clay. However, it doesn't necessarily require the use of a kiln for hardening. This clay variant is ideal for people who want to experiment with coiling, rolling, sculpting, and stamping clay. If you don't actually want to learn the art of traditional ceramics, air-dry clay is a perfect option for you.
However, air-dry clay might not be an ideal choice for plant pots. It isn't completely waterproof and also crumbles fairly easily. So, if you plan to use air-dry clay for plant pots, there are certain aspects you need to keep in mind.
Can You Make Air-Dry Clay Water-Proof?
The first thing you need to remember with air-dry clay is the fact that it isn't waterproof. However, you can surely craft plant pots with air-dry clay to contain your plants. The secret with air-dry clay plant pots is to wrap the same around a durable plastic container. You need to pat down a proper layer of clay all around the plastic plant pot to create the required look. This way, the plastic plant pot will hold in the moisture & the clay will stay dry and nice just the way you want it to be.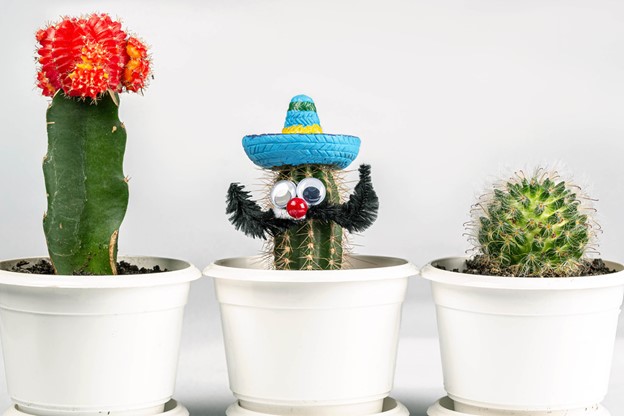 Some of the air-dry clay variants are largely made from plastic & cannot be used for crafting on the potters' wheel. The ones made from the addition of natural clay and cellulose fiber have the potential to absorb more moisture as compared to the previous one. Air-dry clay behaves a bit differently from ceramic clay.
Cracking is generally prone to cracking. It is caused due to the shrinkage of the clay body that loses water when exposed to air. Apart from this, cracking can happen due to the sculpting process done over the armature. Cracking could also occur if you happen to use more water than is needed.
Here is how you can craft plant pots with Air-Dry Clay:
Get the necessary supplies for the crafting needs that include:

Air-Dry Clay

Talcum Powder

Newspaper

Modeling Tools

Stickers/Glitter Glue

Paints

Sponge/Paintbrush

Apply some talcum powder onto your hands and spread it thoroughly. Doing this prevents the clay from sticking onto the palm and from disturbing the natural process of air-dry crafting.

Knead the clay dough properly to make it smooth and soft

Pick off the clay needed from the dough you just kneaded

Roll this air-dry clay into a round shape and ensure it is smooth all around

Start by pinching a deep hole into the clay ball and start building the sidewalls of your pot

Maintain the right thickness throughout the wall of the plant pot

Keep building your pot's walls & pinch the hole further down until you achieve the desired height

If you need any design to be added to your plant pot, this is the time you can introduce the same

You can also create a stand-like structure below the plant pot to ensure that it stays in place

Wait for the piece to dry out completely

Once the plant pot is completely dry, you can color on the same using your acrylic paint
Tips to Follow When Crafting Plant Pots with Air-Dry Clay
Keep smoothing your pot while you arrive at the right thickness

Ensure that you don't keep your clay piece out in the air for long, as it tends to harden pretty fast. Keep kneading the clay every now and then to maintain the softness

Spread the newspaper on top of the table you are working at. You wouldn't want the clay to dry off in the crevices of the table

Do not forget to apply the talcum powder often during the crafting process to ensure zero stickiness

Air-dry clay might not be good for certain individuals with allergies. So, make sure you do a test before starting out the project to ensure you aren't allergic
To ensure additional protection from moisture, you need to use a sealant for the same. Your best option to avoid the yellowing or moisture absorption with air-dry clay plant pots is to make use of a water-based varnish or artist-grade sealant.
You can also make use of the watered-down Mod Podge or PVA glue. You can make use of the Mod Podge CS11302 with a matte finish to seal off your artwork. Artists can also make use of Varethane or Polyurethane varnish for the purpose of moisture sealing.

Here is a quick table that establishes the problems with air-dry clay and ways to solve them:
Air-Dry Clay Problems
Solutions to Try
Cracking Post Drying
1-Use slip to seal joints
2-Use an armature for better bonding
3-Do not use a lot of water
Water-Absorption Post Drying
Use a sealant like PVA glue or Mod Podge
Major Shrinkage
Create a model larger than needed
Fast-Drying
Slow drying is right for your plant pot, wrap a plastic bag on top to help
What paint can you use for your air-dry clay plant pots?
When painting over the plant pots made of air-dry clay, you can opt for tempera paints or acrylic paint. These are the best options for air-dry clay. However, you can also make use of poster paints or nail polish to color your plant pot.
How to join parts in air-dry clay plant pots?
If your air-dry clay plant pot is not a single mold but rather a combination of many, there could be a chance of breakage post-drying in the joints. To ensure a stable joint, you need to make use of an armature to keep the pieces together.
Apart from this, you can also make use of a slip to avoid cracking post-drying in the joints. A slip can be prepared by leaving a small piece of clay in double the amount of water. Once the clay achieves a slime-like watery consistency, the key is to apply it to the joints to seal it together.
Conclusion
With these tricks in mind, you can build some beautiful DIY plant pots with the help of air-dry clay. Whether you are looking for mini succulent planters for your study table or planning a big vase as a centerpiece for your dining hall, air-dry clay can make the crafting process easy for you. So, craft away with the best air-dry clay, and do remember to craft it fast before the clay dries out!