By now, you must have mastered the art of using air-dry clay. Everything from kneading to drying the project perfectly needs patience, and you must have mastered the same by going through our extensive guides. The best thing about air-dry clay is the fact that you don't have to fire it in a kiln. So, things are pretty easy when it comes to using air-dry clay.
But, what exactly are you supposed to create with your air-dry clay? Well, here is a list of top 10 DIY ideas you can try out on your next air-dry clay crafting escapade.
Why is air-dry clay ideal for your DIY projects?
Air-dry clay features properties similar to that of traditional clay. However, it doesn't need kiln firing to harden. The clay is ideal for crafters that love to try out their skills at coiling, rolling, stamping, & sculpting clay but don't actually want to spend time & money learning the traditional ceramic art.
However, some downsides to using air-dry clay include the fact that it isn't completely waterproof post drying. Moreover, depending on the material used in the air-dry clay, it might crumble easily. In case you are planning to create some fun artwork for your daily use, make sure you seal it with ModPodge or a similar sealant.
Here are some properties of air-dry clay you need to keep in mind before you try to create these unique craft items:
| | |
| --- | --- |
| Features | Type |
| Baking Required | No |
| Shelf-Life (Branded) | 1 year |
| Shelf-Life (Homemade) | 2-3 weeks |
| Texture After Drying | Hard and Solid |
| Drying Time | 24 to 48 Hours Depending On the Thickness |
| Prone to Cracking | Yes |
| Waterproof | No; Only Water-Resistant |
The 10 Best Ideas to Try When Using Air-Dry Clay
1-Air-Dry Clay Bowl (Stamped)
Are you aware of the decorative plate trends you see in most modern homes? Well, air-dry clay is perfect for shaping up such decorative plates and hanging them on your walls. Then, you can choose to paint over it with bright colors or keep it simple with stamps that reflect a memory. Use some of the homemade stamps you bought from an online store and imprint them on your air-dry clay before it dries out completely.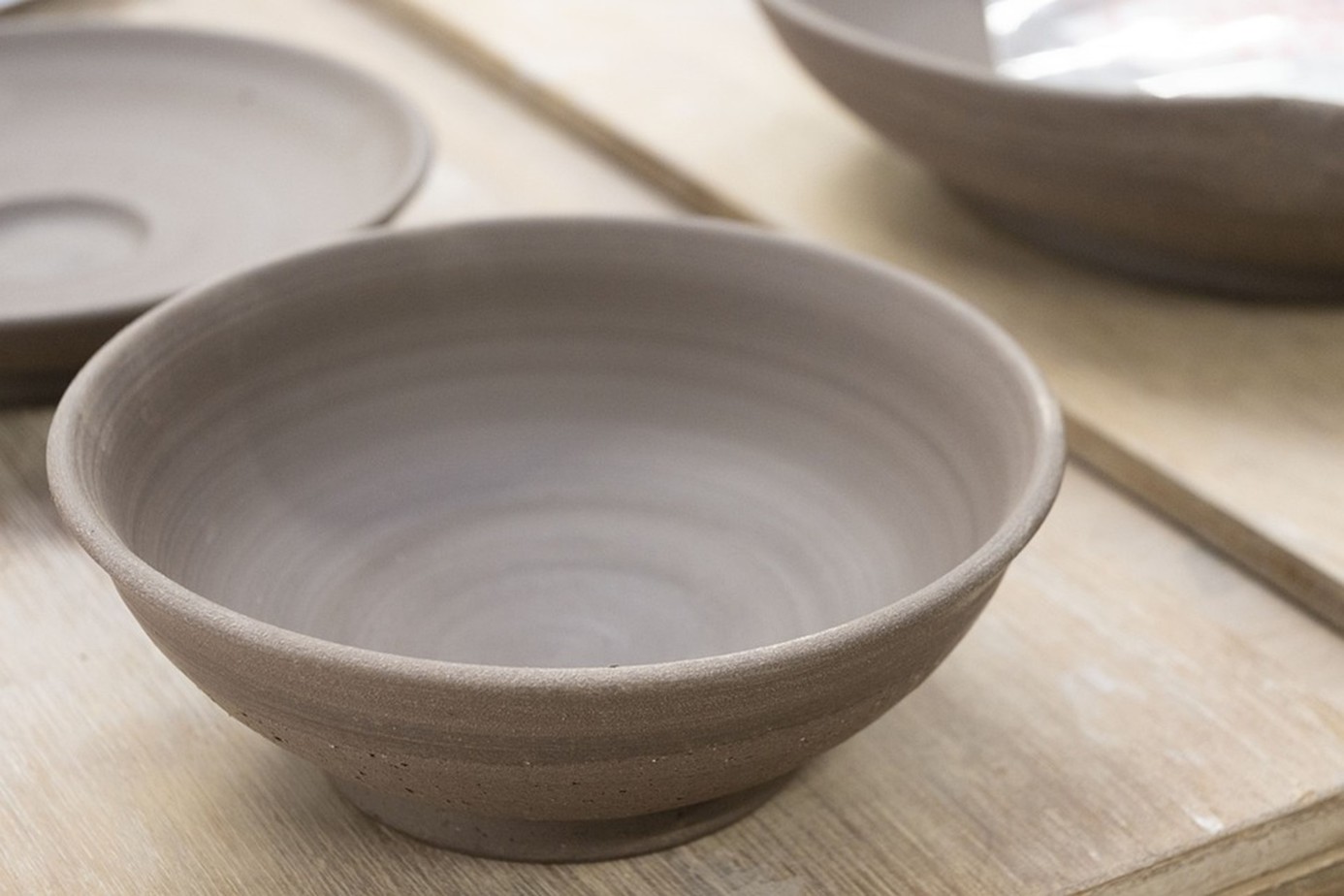 You can stamp on XOXO or maybe some quotes depending on what suits your décor or your personal taste. Then, you can smoothen out the imprint using sandpaper once the clay has dried out. Don't worry! Air-dry clay doesn't always dry out smoothly. But, you can always correct it with the help of fine sandpaper.
2-Leaf Bowl:
If you love and adore nature, nothing could be better than preserving it in the variant of a leaf bowl from air-dry clay. Select a leaf with a beautiful texture and shape. Ensure that it is large enough to hold things. You can opt for leaves such as Monstera, Papaya Leaves, Canna, Persian Ivy, Elephant's Ears, Hostas, and many more.
Press the leaf on the air-dry clay you have just rolled out. Next, lightly press on the leaf to ensure the imprint comes out properly. Now, cut all around the edges of the clay to ensure only the leaf-covered part remains. Finally, ensure that the imprint shows the veins of your leaf imprint as its texture.
Once the imprinting has been done, try to give the clay a bowl-like shape. Let it dry and once it has dried out, make sure you remove the leaf properly. Color it however you want.
3-Tropical-Themed Plates:
Do you love the tropical theme to be added to your home décor? If so, make sure you use your air-dry clay to create some tropical-themed plates that feature graphic black & white coloring. For example, create a cute pineapple-like shape or maybe the very same leafy style with a black & white signature color.
If you wish to, you can add beautiful colors to your plates but make sure they are a part of the tropical theme like the greens and the yellows.
4-Jewelry:
With air-dry clay, the choices for jewelry making are endless. You can create anything from a bold statement earring or a bright necklace for your new dress. However, air-dry clay isn't just for the décor or simple DIYs. You can roll out your air-dry clay and craft items that can be added to your daily styling game. In addition, you can look for several websites that can give you some good ideas to create jewelry designs from scratch with the use of air-dry clay.
For this particular project, you might do well with some materials such as:
Rolling Pin

Jewelry Pliers

Clay Cutter or Knife

Earring Backs or Posts

Jump Rings or Open Connectors

Super Glue

Cutting Surface

Colors
Once you have cut out the desired shape, leave the air-dry clay to dry out naturally for a minimum of 2 days. Ensure that the thickness of the rolled-out clay isn't more or less than 1/4th of an inch to ensure minimum or zero cracking/breaking. A very thick or thin design might be prone to breaking or cracking due to improper moisture loss. So, create your unique statement necklace with air-dry clay and flaunt the style wherever you go.
5-Mini Planters for Succulents:
Before you choose to do this, remember that air-dry clay is in no way completely waterproof. At best, it is water-resistant. But, with time, it will surely absorb water and start getting back to its original mushy texture. So, how would you develop a planter from air-dry clay?
Well, the key is to wrap the air-dry clay around something that is waterproof. You might not be able to completely craft planters out of air-dry clay, but with this technique, you get the look of air-dry clay minus the hassles of it not being waterproof.
Take a plastic or metal container and roll out the air-dry clay as required. Wrap this clay all around the container & let the planter dry out naturally. Ensure that the wrapped-up clay is a bit bigger than your container as it would shrink during the drying-out process.
The planter inside will keep moisture away from the air-dry clay, and your design will look nice & dry. Plus, succulents do not require a lot of water to remain alive. So, you don't have to expose your planter to a lot of water.
6-Faux Biscuits and Cookies:
If you have children at home, the best thing you can do is gift them handmade items that look great and make up for their playtime. Children love to play pretend-chef with artificial food and other items. You can create a mini kitchen for your child with the help of air-dry clay. Whether it is a cute pan or some amazing cookies, you can create almost everything with the help of air-dry clay.
However, do keep an eye on your children while they play with these faux items, as they might try to ingest them. Ensure that all the fun time happens only under your supervision. You can also create different play sets depending on what your kid loves to be when they grow up. For example, you can create a doctor set or maybe an architect's gear just as screwdrivers or measuring equipment with the help of air-dry clay.
7-Keychains:
Keychains are super cute & fun to create with the help of air-dry clay. In order to create keychains with the help of air-dry clay, you need these supplies:
Pre-designed set for clay lettering

Clay cutters

Needle or similar objects to poke a hole through the mold

Keyrings

Jump rings

Charms, tassels, or similar embellishments (optional)

Small paintbrush set

Rolling pin

Small pliers
In order to create keychains with the help of air-dry clay, first, you need to take a bit of clay and roll it out flat with a 1/4th inch thickness. Next, emboss the letters & textures into the clay piece. You can also paint on the clay piece depending on the look you wish to create. Once you are done creating the designs, make sure you poke a hole in the top of the clay to allow the hoops and chains to enter. Now, wait for your masterpiece to dry out and add the hoops to it. Then, your keychain is ready to use. You can also seal the air-dry clay with the help of ModPodge or similar sealants available in the market. The best option available is the ModPodge CS11302, a water-based sealer that can be used for glue and sealing. This particular ModPodge gives a matte look to your craft item. Alternatively, you can also opt for sealants that provide a glossy look.
You can personalize the keychains and gifts on anniversaries, birthdays, or any special day that you wish to make memories for your loved ones.
8-Makeup Brush Holder:
Another gorgeous piece of artwork you can create with the help of air-dry clay is a make-up brush holder. We all know how difficult it is to manage all our make-up brushes, and it is easy to lose them every now and then.
Commercial brush holders come at a hefty price tag, and you sure would want a solution that is pocket-friendly. So, how would you do that? This can be taken care of with the help of a reliable make-up brush holder. Making this brush holder is fun as well as a cost-effective solution. Simply create a design of your choice and poke as many holes as required according to the design.
Paint it as you want and let it dry out. Your make-up brush holder is ready to use. Alternatively, you can also use it for storing your paintbrushes after you are done painting your masterpiece.
9-Hanging Clay Pendant Lamp:
Have you ever been to a modern and chic space that is decked with some beautiful hanging pendant lamps? If such designs inspire you, make sure you use your air-dry clay to add some amazing décor to your home's lighting.
If your existing home décor needs some revamping, nothing could be better than a beautiful hanging lamp made up of air-dry clay. Create some eccentric designs that could either be left black and white, or you could deck them up with some beautiful colors.
These fun pendant lamps could be an amazing conversation starter for the guests. The space at which these lights are added will shine with a whole different look.
10-Fruit Holder Bowl with Rope:
If you are bored with the traditional bowl for holding fruits, you would surely want to amp up your efforts to make the bowl look unique and classy at the same time. This nautical-themed rope bowl would look very beautiful on your center table. You can also gift it to someone with a birthday coming up or any other event where you have no idea what to gift.
The best this about this air-dry clay bowl is the fact that it is handmade, shows your efforts, and is one of a kind. First, create your bowl using air-dry clay. Now, before it dries out, make sure you pierce some holes at frequent intervals all around the top portion of the bowl in a circular manner.
After the bowl dries up, start weaving the rope in a circular manner. Use strong glue to hold the rope together. Once you are done, you can also paint the rope and the bowl according to your liking or let it simply be the classic white color.
Conclusion
So, the next time you try to invoke your hidden artist, make sure you start with these ideas and master your experience in the crafting domain. You can always experiment and add your very own touch to these designs. As an artist, you are free to try out anything. The ultimate goal is to craft something that defines you as an artist. So, good luck experimenting with air-dry clay. We hope your experience with these ideas would be fabulous.