Beginner artists tend to love working with air-dry clay, especially because it doesn't involve working with the potter's wheel. The best thing about this clay is the fact that it dries out with time due to air exposure and doesn't require firing for permanency. However, there are a few reasons that could bring about cracks in the sculpture.
So, how can you avoid getting into this mess and prevent cracking in the air-dry clay?
Air-Dry Clay: Does it Crack Easily?
Most air-dry clay brands are naturally acquired clay that is made from white earth & hardens as it dries. Air-dry clay doesn't require baking for the curing process & typically shrinks very little. Not just that, cleaning up your work table after crafting is very easy as opposed to normal clay or polymer clay.
The key to taking care of air-dry clay cracks is to fix them right away when you start noticing the development of the same. If you notice a few small-sized cracks, one shouldn't wait for the clay to dry out completely. Start by preparing a slip with the help of some air-dry clay. Water down the clay to a consistent mixture so that it can be applied to the cracks to seal it up completely.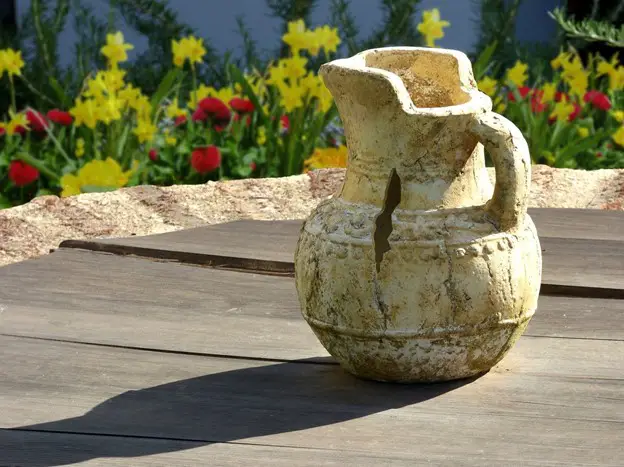 Some reasons for your air-dry clay to crack as it dries up:
Air-dry clay has a lot of water to help with malleability. So, if you keep it out of the packaging for a long time, exposed to the air, the moisture starts evaporating within a couple of hours. At times, due to high heat, the water starts to evaporate very fast that could create small cracks. So, the key is to let it dry at its own pace without fastening it. With air-dry clay, the slower the drying process, the better it is.
Apart from this, if you started working with air-dry clay that has already started drying, it could lead to cracking issues due to faulty moldability. The key is to check if your air-dry clay feels too hard to mold or create shapes with. If it does feel too dry, try to add some water to the clay. This will help add to the pliability and prevent cracking issues. Also, you need to ensure that the air-dry clay is stored safely in an air-tight container.
Clay Rolled Out Too Thin:
Your air-dry clay could also start cracking during the drying process if the clay is rolled out too thin. Thinner clay pieces tend to dry up faster and hence are prone to easy cracking. The key is to roll your clay pieces to 1/4th of an inch in terms of thickness. Ensure that the clay's thickness is consistent in order to help prevent any cracking issues.
Tips to Avoid Air-Dry Clay Cracking during the Drying Process
1. Use the Right Amount of Water during Molding:
Now, this might sound a bit weird, but adding a lot of water can also lead to cracking issues during the drying process. As mentioned earlier, the reduced moisture content in the clay induces cracking issues. But, the opposite is also true. Adding a lot of moisture or water to the clay makes it overly saturated. Although it slows down the drying process, a lot of water evaporates from a small surface area, and it could lead to cracking. Therefore, it is recommended that you dab water into the clay with the help of a sponge as opposed to pouring water on it. This helps add the right amount of water as opposed to reducing the moisture content or overdoing it.
In case you feel that the clay has a lot of water, let the clay dry out for a few hours before initiating the molding process.
2. Improper Joining of Clay Pieces:
During the crafting process, when you join two pieces together, it can be prone to cracking issues as it dries up. Now, this isn't always going to happen for all your sculptures. However, you need to keep in mind that the pieces being joined together should be dry at equal levels. If one of the pieces is drier than the second one, it could cause the connection to crack. Also, you need to score your pieces properly, like a crosshatch pattern using a toothpick. This helps with better adhesion.
Alternatively, you can use designated tools for the scoring purpose that includes popular options like Xiem Retractable Pottery Scoring Tool. This ergonomically designed tool features 6 sharp edges that provide precision and depth for scoring purposes.
3. Use the Same Clay Slip to Join Two Pieces Together:
Slip is created by watering down the clay and then mixed with glue. If you fail to use the same clay as the base sculpture for preparing the slip, it could dry out faster or later and hence induce cracking issues. So, always use the same clay type to prepare a slip as your sculpture.
Also, you need to keep in mind that there is a difference between a slip and slurry. Slips are loaded with water while the slurry has a thicker consistency. While some joining instances require the use of slurry, others would require the use of a slip. So, keep that in mind to avoid cracking issues.
| | | |
| --- | --- | --- |
|   | Slurry | Slip |
| Features | Slurry is a thick liquid made from water, clay, & adhesive such as glue (optional) | Slip is generally a thinner liquid that is created from water and clay and might require the use of adhesives if needed |
| Usage | Slurry is generally used in the later stage of the drying process as it has less amount of moisture and keeps up with the sculpture's drying speed to avoid cracking | Slip is used in the beginning stages of the clay drying process to join two pieces together as it has a higher amount of water as the sculpture you just created |
| Shrinkage | Slurry has low water content which causes minimal shrinkage | Slip has a higher amount of water that can cause higher shrinkage |
4. Ensure Even Drying:
After you have crafted your clay sculpture, you need to ensure that the project is dried out from all sides evenly. For this, you need to keep rotating your piece every now and then. If you fail to do this, certain sides of your clay might dry late and hence lead to cracking issues.
5. Knead Your Clay Properly:
Another way you can prevent the cracking issues in air-dry clay is by kneading it properly before the molding process. You should knead the clay for a minimum of 3 to 4 minutes before you start crafting. If you feel that the clay is too dry for use, try to dab in more water with the help of a sponge dipped in water. This will help prevent any cracking issues as the sculpture dries up. In short, kneading properly is the key.
Conclusion
With these tips in mind, you can avoid your sculpture from cracking or breaking in any way. With no need for kiln firing, you can have as much fun as possible before it starts to set in its shape. Once it dries up well, you can add some colors, embellishments, or other add-ons to make your piece ideal for decorative purposes.