The art & craft world is way bigger than one can imagine. With creativity, there isn't any bound or limit to what you can create using your favorite materials. The use of clay for crafting pottery and sculptures has been popular since the pre-historic era. Pottery has modernized today and become eco-friendlier with time. It has made its way for environmentally safe & non-toxic essential goods. A unique add-on to this world of art is the air-dry clay.
This clay is perfect for beginners and helps with easy crafting. But, what is the best air-dry clay for beginners? We reviewed some of the top-ranking air-dry clay options available in the market and today, we will review the best air-dry clay for you.
Crayola Air-Dry Clay for Beginners: Complete Review
If you are looking for a fibrous, versatile, & paper-based clay product, nothing could beat the features brought in by Crayola Air-Dry Clay. At the very first glance, it would seem like the clay is way too malleable. However, with a bit of water and a good amount of manipulation, you get access to air-dry clay that is perfectly suited to your beginner-level crafting needs.
Given the fact that this air-dry clay has a good amount of fiber in its constituents, it creates a rather sturdy texture that isn't likely to break apart after drying out. Not just that, Crayola Air-Dry Clay brings in features such as minimal shrinking which automatically translates to minimal cracks post drying.
Now, keep in mind that similar to most air-dry clay pieces, this clay is also challenging when it comes to achieving finer details. However, with a good amount of water by your side, you can get things corrected as long as you achieve perfection.
When crafting with Crayola Air-Dry Clay, you can use a knife, sandpaper, and carving tools in order to obtain precision during and after the crafting process. It is also recommended that you make use of varnish and paint in order to strengthen and seal the pottery creations.
This pristine and white-colored air-dry clay comes in a 5lb bucket making it ideal for beginners allowing scope for mistakes. There is enough clay to experiment and achieve success with this air-dry clay. This malleable and soft air-dry clay can easily be coiled, pinched, flattened, & formed into sculptures.
This all-natural air-dry clay is designed to be safe for artists of various age groups and dries up within a 24-hour timeline to a white, hard surface. The final dried-up project is perfect for coloring or painting with acrylic or similar color-markers.
Note: Given the fact that this is air-dry clay, it is prone to shrinking. So, always keep this in mind and plan your project bigger than you require. It works wonders when used for small projects as the thicker ones might develop cracks.
Here are some features of Crayola Air-Dry Clay:
White-colored clay
Created from natural earth
5lb weight
Dries solid hard within 24-48 hours
Comes with a durable plastic bucket for storage purpose (Re-sealable)
Perfect for beginner pottery artists
Pros:
Easily moldable with its fine & smooth texture as compared to traditional clay
Isn't harmful to the environment
Re-sealable bucket to bring in better storage solutions
Safe for kids as it is completely non-toxic
Cons:
Shrinks a bit during the drying process
Cannot use molding armatures
Product Specifications
| | |
| --- | --- |
| Product Dimensions | 6 X 6 X 6.13 Inches |
| Country Manufactured | USA |
| Item Weight | 5 Pounds |
| Manufacturer | Crayola |
| Container Storage | Re-Sealable Plastic |
| Safe Ingredients | Yes |
| Paint-Friendly | Yes |
| Color | White |
The best thing about this natural earth is the fact that it is packed within a re-sealable bucket that helps you store the remaining clay while preventing it from dry-out issues. For beginners, this particular product is no doubt easy to make use of. It doesn't actually have any harmful chemical-like smell or odor that might irritate your eyes or nose while working or crafting.
Crafters can also use the basic sculpting techniques used in the traditional clay material with Crayola. You can easily use the Crayola clay to attach two different clay pieces with the use of the slip & score method. Post-drying you can also add different types of embellishments with the use of glue.
Do You Have to Seal the Crayola Air-Dry Clay?
Just like any other air-dry clay, Crayola can easily absorb moisture & turn soft if it is exposed to water. This is why it is important for air-dry clay to be sealed after the sculpture is completed. Make sure the Crayola Air-Dry Clay must be stored within the re-sealable container when not being used.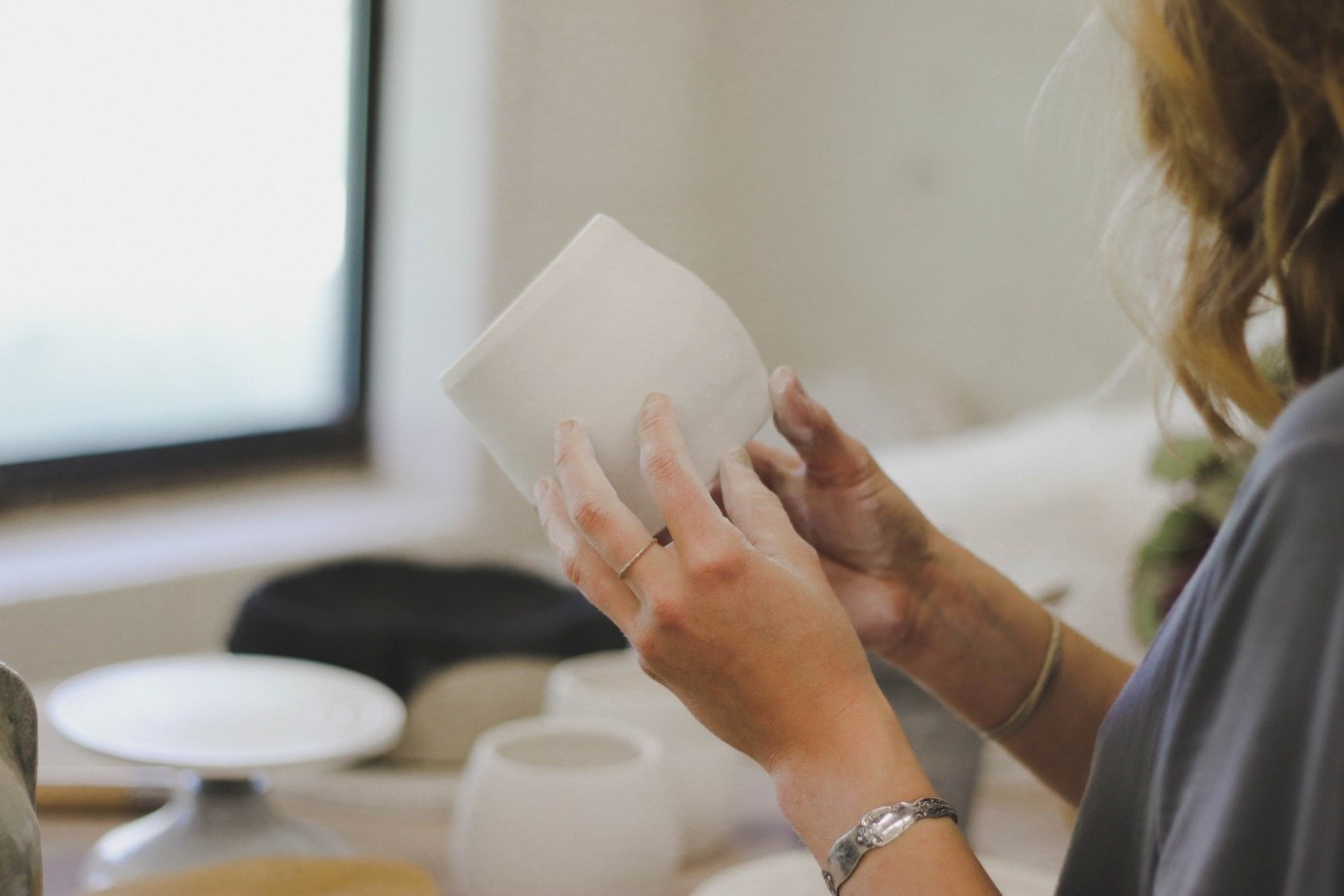 Why Does the Crayola Air-Dry Clay Crack?
Cracking with any air-dry clay, including Crayola is a normal thing. This is caused due to shrinkage that happens after water loss within the clay's body. This typically happens when you sculpt over an armature or make use of too much water for the crafting process.
So, make sure you use the right amount of water to avoid any issues.
Do you need to bake the Crayola Air-Dry Clay?
No, you cannot fire-dry or bake the air-dry clay. Due to the drying agents, it is prone to be more flammable. It must not be heated or fired in the oven or kiln. Given the fact that air-dry clay seems superficially the same as ordinary clay, shaping it is easier. So, make sure you avoid baking the air-dry clay or kiln-firing it in any way.
Can I paint my Crayola Air-Dry clay before drying?
When painting the Air-Dry clay, you can do it directly post drying or even before it dries up. In order to paint the air-dry clay, you can opt for acrylic paint or Tempera paint. When coloring before drying, the best way to go about it is to mix the color during the kneading process. The color won't be vibrant but it would surely introduce a tint to the air-dry clay.
Conclusion
With Crayola, you get access to the best beginner-level air-dry clay that makes your pottery-making process very easy to work with. Make sure you divide the clay into sections and ensure that it doesn't dry out during the crafting process. So, the next time you think of reliable air-dry clay for beginners, make sure you hunt for the Crayola Air-Dry Clay.