With the new year coming closer than ever, you should know a little bit about some of the top pottery trends you should be watching out for this next year. Here, we'll talk about a few of the top trends that we see will be even more in full force this coming year and a couple of other different trends that you should be watching out for. Pottery trends in 2019 are gonna be bigger than ever, and you'll be informed on what they are, and why they matter in this post.
The "Liquid Effect"
This is a new one that many on Etsy have started to partake in, and it's essentially a very artful means of pottery coloring. It's similar to marble, in that it creates that kind of effect, but there are other design elements that are a huge part of this, including the following:
  • Swirls
  • A Stirred Look
  • Splashed Liquid Look
  • Curves that look like water
This is super popular because well, it looks like water. People love the calming idea of going to a beach house and just relaxing, hearing the waves. Well, that's what a lot of the pieces tend to emulate. This trend could potentially bring beachy touches to virtually anything, whether it be a pottery base of a lamp or even something to sit atop a mantle. Serving plates and dinner also could benefit from this artsy little touch, and if you have a beach home, this is actually a great design addition. It's super popular in pottery because it creates a similar look to well, marbling and that's a beautiful texture that many people enjoy.
More Thrown Pottery!
Throwing pottery is super popular, and it's a trend we plan to see once again in this next coming year, for a good reason actually.
Thrown pottery not only looks really nice, but it's more than just that. Thrown pottery has so many other great benefits including the following:
  • Creates mindfulness for artists
  • Is a mindfulness meditation in many cases
  • Often is a fun skill to hone
  • Brings a bigger sense of pride than hand-built in some cases
If you think about it, sitting at the wheel, working with your hands, creating items you'll love is something that many people want to take advantage of. The world is very busy these days, and with the hustle and bustle of society, it's hard to just sit down and chill. This is often a reason why people go towards wheel pottery and throwing it. It allows for a relaxing sort of motion, and in turn, it allows you to bring forth a beautiful handmade piece that can ultimately create a wonderful feeling for you.
Thrown pottery is in, and even if you don't have a wheel in your home, you can always go to a studio and use theirs, creating items that you'll love.
Vintage!
This is a trend that you often see not just with pottery, but with clothing and other artistic aspects of life. People love vintage, and the same goes for pottery, and this can be a trend we will continue to see in 2019.
Some examples of this include the following:
  • Using older styles such as majolica
  • Utilizing old techniques to create items
  • Using different glazes that are similar to vintage pottery
  • Using a gilded texture, because it is something that was in vintage pottery
Vintage is super popular because it creates that aesthetic of the "good old days" and in many cases, with the rise of modern technology all over the place, sometimes adding in something a little bit older can create a wonderful and very intriguing difference to your home. If you're looking for something that you feel would ultimately work for your pottery, this is a trend that we feel won't be going away anytime soon.
People love vintage, and emulating that style allows you to give it that feeling that you'll like.
Make it Personal!
Sometimes, being a little personal is a good thing. While we do live in a world of mass-produced pottery items, such as bowls and the like, lots of times the bestselling pottery are those that are personal.
Why is that? Well, it's because of the following:
  • Personal touches allow for a unique look
  • It's one-of-a-kind so nobody else will have it
  • Hard to emulate the same way
  • Has a bit more "life" to it than pottery that doesn't have that
  • Can be a great addition to any home
I personally love pottery that has a personal touch, and in this day and age, where you could go to Walmart and get generic pottery set for about 50 bucks, that personal touch is what many seek out. It's an artistic measure that many people seem to enjoy, and I can understand why. Many times, having personal art is a pride point as well. Not everyone will have it, so, therefore, you'll stand out and be different.
How do artists create personal pottery though? Well, here are some ideas:
  • Create weird and unique designs
  • Painting characters on the pottery
  • Creating something with names or dates on it
  • Personalizing with a signature
  • Using patterns that are different
Even artists that are selling items in sets use this. For example, if you look on Etsy right now, you'll see lots of pottery that is varied, and many of them have a personal touch to them. You can even mix vintage with this to make it look even better. In the realm of pottery, having something personal is not only good for you as an artist if your ultimate goal of pottery is to make it, but if you're someone who has the end-goal of making cash off their art, this is ultimately one of the best ways to do it. You can think of how to stand out because standing out is one of the big rends of 2019 that will continue to go strong.
Carving Designs
This is another one that kind of fits into even just going with a personal touch with your pottery, but designs are in, and putting designs on your pottery is often one of the best ways to follow the trend in 2019.
These can involve the following:
  • Patterns
  • A Name
  • A design that's similar to other items in life
  • Even animals and plants
Lots of the most successful pottery out there and the trendiest pottery items tend to have some cool designs on them that are carved by the potter. Now, this is obviously done when the pottery is still wet, and many people tend to do this when it's either leather hard or on the wheel.
Some fun ways to incorporate this into your pottery are as follows:
  • Carve out different textures to make your pottery look like a popular fruit, such as an apple
  • Carving and placing ears on a mug to make it look like a cat
  • Carving designs out on the pottery
  • Putting an intricate pattern either by cutting into the pottery or folding the clay while on the wheel
There is a lot here that you can use, and honestly, it does touch into that personalization element that was mentioned before. It sounds a bit complex, but really if you have some pottery that's already wet, this is a free invitation to carve what you want to put into your pottery that you'll be able to enjoy.
Pottery You Can Use
Utilization is in, and it's not just because it's a popular trend that's been around for a while, but having a pottery piece that's functional, and also looks great is something potters tend to go for.
So why make pottery you can use? Well, it's obvious because of the following:
  • Gets more use
  • You'll be able to enjoy and appreciate the work more
  • You'll feel proud cause you created items you can use
  • You'll be able to house foods and liquids into these a lot
These are usually the reasons why people consider the utilization of pottery.
Some popular ways you can create pottery you can use include the following:
  • Make pottery with handles and tops
  • Make them waterproof with the correct glaze
  • Make them strong and not flimsy
  • Have an idea of how to use the pottery in mind
You'd be surprised at just how much more you can do if you're able to really work with the pottery, and be able to use it. It creates a more worthwhile piece, and there's a reason why pottery trends next year focus on use rather than just pure decoration.
Gilded Pottery
Gold is a pretty color. It represents wealth, and people love it in their pottery. Gilded pottery is still popular since it is a vintage pottery trend many tend to enjoy.
Gilded pottery is also pretty easy to make, in that you essentially just need to do the following:
  • Put the glaze on there
  • Paint the stain on there gold
  • Let it fire
Usually, if you do choose to use gilded paint on your pottery, you'd want to make sure that you do fire it at the correct cone, and make sure that it works for the pottery you're creating. But, gilded pottery is still a popular trend, and in 2019, it seems that won't be dying anytime soon.
Porcelain Items of Any Kind
Finally, there is porcelain. Porcelain is insanely popular, and it's still going to be popular in the next coming year. If you want to jump on this trend, you can make porcelain items, and you'll realize why people like them.
Some of the reasons why people choose porcelain are the following:
  • Stronger than other pottery
  • Can use a variety of stains and glazes
  • Can have a bit of color for an added touch
  • Allows for you to shape the pottery into different shapes
  • You can use colored glazes on porcelain pottery
Now, the one downside to porcelain is the fact that it fires at an extremely high temperature, the ones that are on the lower end being around 2400 degrees, but some of the high-end pottery firing at as high as nearly 4000 degrees. It's got a super high melting point compared to other pottery materials, and there is a reason why people choose that for their items. Porcelain also looks good in many different pieces, which is why many enjoy it.
Some of the popular porcelain items you can make include the following:
  • Cups
  • Bowls
  • Dinnerware to cook
  • Various little vessels such as gravy bowls
  • Vases
  • Places to house trinkets
And so much more! I have noticed that this is a pottery trend that's been around for a super long time, and I feel it's for a good reason. This is the final pottery trend of 2019 that I'll discuss, and I feel that, if nothing else if you want to truly get onto the pottery hype train, consider finding a place that has a kiln that can fire items to this level, for there are so many cool things you can make in the future with this pottery trend.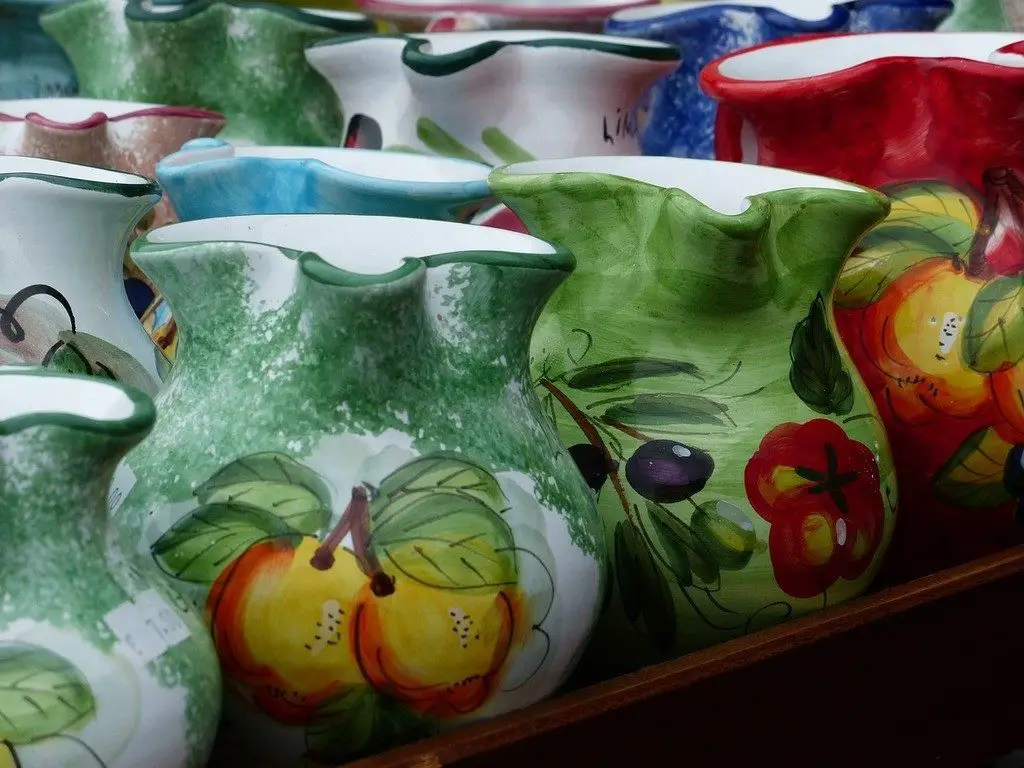 Trends, Trends!
Pottery trends are still taking over, and we discussed a lot of them here. Now, you don't have to do every single one of the next year, but working towards creating beautiful pieces, and hopping onto a few of these trends can make a difference in your pottery skills, and the overall success of your pottery pieces. Trends are worth following in some cases, and it's great that there are so many you can take advantage of, and so many that you can enjoy.
Ring in the new year with some of these pottery ideas, and you'll see for yourself why everyone enjoys them.