Pottery is one of the oldest art forms. Modern methods blended with ancient techniques lie at the heart of contemporary pottery. From clay to ceramic, pottery techniques create beautiful vessels and bowls.
Adding to their inherent allure are various artistic designs and creative imprints. With time, many tools are used hand-in-hand to create fine patterns. One such is leather tooling stamps. From rivets to leather stamps, a wide range of products are used in this process.
Commonly used on clay pottery, these tools help create stunning prints and even brand names or logos in some cases.
Types Of Leather Stamping Tools
Leather stamping tools come in various shapes and sizes. As a result, a wide range of prints can be created using these tools. However, the pottery piece tends to retain these prints for longer.
The following are some of the commonly used leather stamping tools usable on pottery for various purposes.
| | |
| --- | --- |
| Type Of Tool | Common Uses |
| Custom Leather Stamping Tools | For personalized logos, brand names, promotional tags, or insignia on pots |
| Vintage Leather Stamping Tools | For classical, medieval, or antique designs |
| DIY Leather Stamping Tools | For beginner potters experimenting with primitive and simple designs |
| Professional Leather Stamping Tools | For seamless and precise geometric or block cuts and carvings |
Based on the purpose, the tool can be chosen. Many tool kits are available, combining these and other instruments.
Top 5 Leather Stamping Products
With the world at our fingertips, you can get your hands on a broad spectrum of leather tooling stamps. These will help create exquisite pieces of pottery, be it a simple vase or a cup.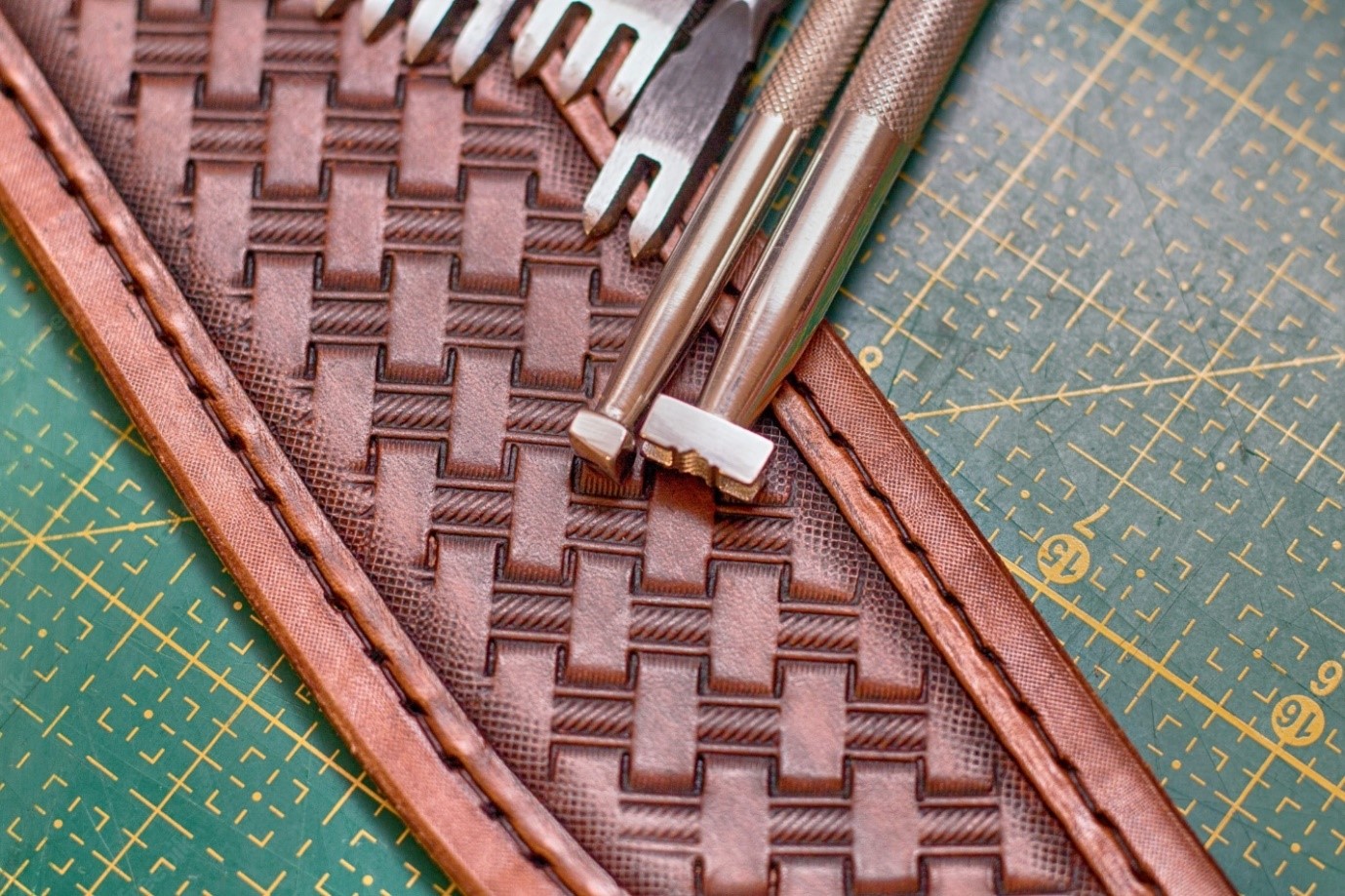 So, here are some recommended products that you can effectively use on your pottery pieces.
Known for its carving and stamping products, DandS Limited is a well-known brand. One of their products, commonly used by potters, is the Leather Stamp Tool.
Made of brass, the stamps are permanently attached to a steel handle. This makes it easy to use. Whether beginners or professionals, this product can be used for carving and stamping perfect patterns and detailed designs on your pottery.
This tool basket contains a Basket Weave Leather Stamp Tool and Leather Stamp Tool. Both these tools work well together on well-dried pots and are usually used for carving accurate and clear-cut punches.
Product Attributes
The approximate size of the product is about 10 cm

Stamps are cut using Computerized Numerical Control (CNC) technology

CNC ensures accurate and crisp prints
Are you looking to stamp ancient, lost languages on your pottery to add to its uniqueness? Then, the Tandy Leather Factory Runic / Celtic Alphabet Stamp Set should be your choice.
Runic and Celtic letters can be easily imprinted using these stamps. You can let your creativity go wild and add a cryptic element to your pottery. Not only this but these can be used to create abstract and obscure designs by combining various prints.
The 3D stamp is easy to place, with each letter defined with fine detailing. This product is commonly used with ceramic-based pottery. So, add a tinge of mystery and symbolism to your pottery with the help of this leather tooling stamp.
Product Attributes
The approximate size of the product is 7 inches

Works best with a handle and a mallet, which is to be purchased separately

26 Runic/Celtic alphabets are available
This product is a must-have if you want to keep multiple prints and designs handy.
From those who are kickstarting their pottery journey to experienced professionals, this stamp set is bound to add to your creation's overall beauty and charm. With imprints ranging from flowers to butterflies, the number of patterns you can create is boundless.
This product is suitable for creating vintage and modern patterns on your ceramics. The solid metal assures its durability. In addition, this product's variety makes it compelling to click on 'add to cart.
Product Attributes
The approximate size of the product is 10.5 cm

The product set consists of 33 pieces of various designs

A handbook for beginners' techniques and tips is a commonly accompanied purchase
One can never go wrong with dainty and gorgeous floral designs on their pottery. It brings out the true essence of the piece.
If you want to create such designs, then the Stamps4Clay SCM Stamps is the product to buy today. It comes with a decorative stamp and a mini round decorative stamp. Both of these are suitable for clay-based pottery work.
Not only are you creating enchanting pieces of art, but you are also supporting a small business by purchasing this product. So, create flower-based designs on your pots with various permutations and combinations using this stamp.
Product Attributes
The approximate size of the product is 0.98 inches

Made of high-quality wood blank material

Teng oil-based wood finish ensures detailed carving
Floral, geometric, and block designs are a common sight. So, are you on a quest to create pots with niche designs? If yes, then this product is where your search ends.
Lisa Pavelka is a renowned artist whose favorite muse is polymer clay. The Great Create Lisa Pavelka Individual Texture Stamp, inspired by her art, helps pottery enthusiasts create exquisite designs.
Pavelka's art and unique patterns can enhance the aesthetic of your pottery studio by leaps and bounds. Thus, this leather tooling stamp will give your pottery art a quirky twist while retaining your artistic expression.
Product Attributes
The approximate size of the product is 5.5 inches

Works best on polymer clay, i.e., PVC-based clay

Best results when used with dyes, mica powder, and paint
Conclusion
Whether a hobby or a pottery studio running around the clock, the technique of stamping is key to creating meaningful and long-lasting pieces of pottery. Enhancing their natural grace are the fascinating prints and carving. Using these leather tooling stamps will make every pottery artwork a memorable experience to cherish. So, hop on the pottery ride; add these tools to make it fun and exciting.