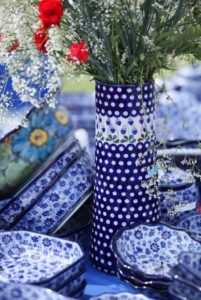 As a beginner in pottery, I think it is relevant to know the different kinds of pottery that are in the world. Today, we are going to be talking about Polish Pottery. Yes, Pottery from Polish people. Lol. Polish Pottery is a type of pottery specialized in Poland. Polish Pottery is otherwise called Bolesławiec pottery. It is the collective phrase for fine pottery and stoneware produced in the town of Bolesławiec, in south-western Poland. It has been in existence since the 14th century but it gained worldwide recognition in the 19th century and has continued to make landmarks ever since.
One distinctive feature of Polish pottery is that each stoneware is characterized by an iconic blue decorative pattern on a white base background. There are also alternative touches of green and yellow elements on the white base background. The scope of Bolesławiec stoneware is not limited to teapots and jugs, but it extends to plates, platters, and candelabra. The pottery is collectively known as "Polish stoneware", as it is one of Poland's cultural symbols. The durable and functional creamy white and blue pottery pieces are unique and can be identified easily. Pottery and Ceramics are part of the identity of Bolesławiec, Poland.
HISTORY OF POLISH POTTERY
| | |
| --- | --- |
| DATES | SIGNIFICANT ACHIEVEMENTS IN POLISH POTTERY |
| 14TH Century | Use of handstamps and brown glazes on polish pottery |
| 17TH Century | Amalgamation and Unity of Bolesławiec Potters |
| 18th Century | Painting of stick/flower motif on pottery pieces |
| 1897 | Establishment of a professional ceramic school in Bolesławiec |
| 1936 | Bunzlauer Braunzeug (a group of 6 schools) was established. |
Pottery making has been a part and parcel of Bolesławiec and the entire Poland region's history for an extremely long time. Ceramic artists and potters were discovered in Poland since the 14th Century. Some archeologists in Poland have found stonewares and ceramics that dated back to the middle ages. Potters in the Bolesławiec area first united into a league around the 17th century. They came together to create amazing masterpieces during this period. A lot of pottery apprentices sprout up during this period, virtually every household in Bolesławiec has a potter. During this period, jugs and vessels were made in uniform shape and then they were glazed with brown glazes. Most vessels during this period were characterized by specific marks, usually the potter's initials and date.
Around the middle of the 18th century, the jugs and vessels started to become characterized by a naturally flowing pattern of "sticks", or a painted pattern design of flowers and leaves on a stem. The sticks painted on the pottery were white, while the jugs or vessels were usually brown. This added some sort of contrast and artistic appeal. The stick/flower motif was popular throughout the late and early 19th century.
In the year 1897, a professional ceramic school was established in Bolesławiec. One of the prolific heads of the school was the famous Dr. Wilhelm Pukall from Berlin. He started changes and pottery innovations that transformed technical abilities and new methods of molding. He was known for his encouragement of creative minds that are ready to break away from the "sticks on a bowl norm". The school accepted mostly sons of local potters and other young minds that have a keen interest in pottery. After the completion of their courses went on to start their workshops.
The school had three important potters (or lecturers) that impacted the students with their works. They were the turn of the century, their names were Julius Paul, Hugo Reinhold, and Carl Werner. They helped discover the new ideas and vision of the school. These three potters and their studios started using stenciling techniques, matte glazes, vibrant colors, and gilding. Their new techniques of pottery are what revolutionized into the modern Bolesławiec pottery. In 1936 the school established a group of six schools that refined the Polish Pottery we have today. They were called the "Bunzlauer Braunzeug". The projects from these schools can still be found today, they are marked by brown pots with white decorations and signed on the bottom.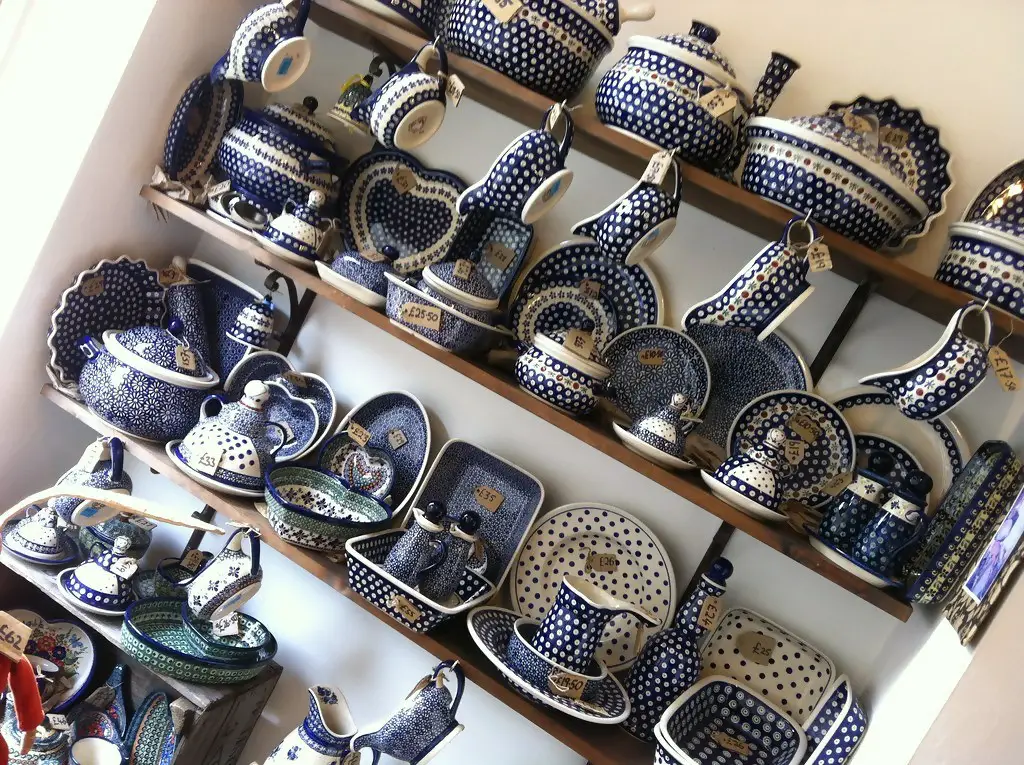 Although most of the schools and studios were lost to World War 2, the new Polish government and refugees made a huge effort to revive the work. The cooperative CPLiA was formed and supported by the state-run Eugeniusz Geppert Academy of Fine Arts in Wrocław. This allowed the cooperative to revive a standard of artistic achievement and enabled funding and the influence of talented potters in Poland.
POLISH POTTERY TODAY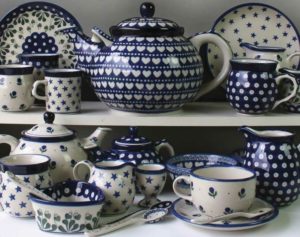 Right from the 17th century, Polish pottery has been truly beautiful and highly durable. It has been crafted out of clay indigenous in Poland. Only natural and ecological materials are used throughout the entire production process, and as such Polish stoneware has been tested and it has proven to be cadmium and lead-free. Because of the special glaze used in making polish pottery and high firing temperatures used during production, Polish pottery has proven to be extremely durable and highly resistant to chipping and scratching. Over the years, there have been quite a few improvements and innovations when it comes to polish pottery.
Bolesławiec pottery was produced as a functional product, and it is still useful today. Although the pottery designs have increased in quality and intricacy, Polish pottery remains the most sought after type of pottery in the world today. Bolesławiec pottery is in a very different category from conventional fine English and Asian china; it is pottery that demands high prices in today's marketplace. You can get a sample of Polish Pottery products by clicking here.
One amazing thing about Polish Pottery is that they are handcrafted with pride. Polish Pottery is mostly produced in many small manufacturing companies in Boleslawiec, Poland. All polish pieces are hand-painted. A sponge stamp and a few brushes are used to paint art on each Polish piece. Bolesławiec pottery relies heavily on manpower as all the patterns that are painted on jugs, cups, and bowls are hand-cut by the artists in the sponge and then the artists use the sponges and brushes to apply the unique pattern on each piece.
To date, Polish artists still handcraft and decorate each piece using old techniques. In this article, I have talked about what polish pottery is, its history and where it stands today.