Pottery is undoubtedly the most beautiful piece of art that has an amazing power of mesmerizing us with its beauty and artwork. But pottery works are not only meant for decorations, rather all of us use pottery utensils in our daily life. Also, having our dinner or lunch served on a beautiful pottery utensil set adds on to our delight.
A magnificently handcrafted dinner set creates an aesthetic impression amongst the guests while serving food onto it for them. Also, handmade pottery utensils are the eco-friendly way of serving food as they are made out of pure clay and other biodegradable materials.
While having food on a pottery set, we feel safer as compared to having foods in plastic or steel utensils. But have you ever thought how safe it really is? We assume it to be, but is it really? Are pottery crockeries really that much safe to have food on it? Well, the answer might not make you that much happier.
Potteries are usually made of pure and natural materials like clay. But later on, to make it look glossier and attractive, chemical glazes, lead, and cadmium paints are added. Those chemical glazes and paints, in turn, have a bad impact on our health. They are right away hazardous to our health that causes so many diseases and abnormalities.
Let's know about how to understand if your pottery is safe for food or not:
Preparation of the glaze
While making the pottery glaze, keep in mind to mix the materials in proportionate amounts so that the pot can prevent leaching and be food-safe. Harmful and hazardous components of the pot may percolate into the food due to leaching, and it might hamper your health.
There can be many kinds of ceramic ware pottery that can be hazardous to your health. Creating potteries with an uneven appearance or irregular shapes should be avoided. While applying the glaze onto the pot, make sure it is properly melted to avoid leaching. Inadequate amount of glass former and alumina in the glaze can make your pottery melt inappropriately.
So, to avoid such problems, you must calculate the accurate formula for making a safe glaze for your pottery and compare it with the standard limit charts. Preparing and applying a balanced glaze to your pottery will undoubtedly make it food-safe.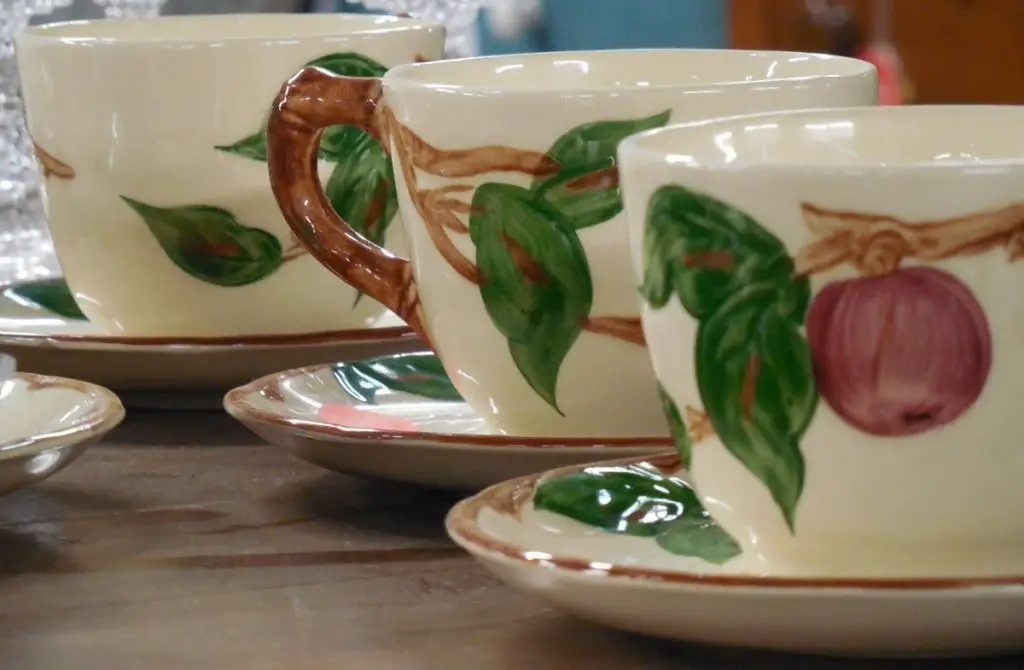 Decoration of the surface
One should pay close attention to the decorations adorned on the top of the ceramic ware. Definitely, the more decorative crockeries will look more beautiful, but you can't compromise your health.
The potteries with an antique finish or bright, vibrant, and glossy colors contain pigments made of lead to give it a more attractive and glossy appearance. These kinds of potteries are not at all safe for having foods.
It is always a good idea to check the decorations first; try to use colorless non-toxic glaze to decorate your pottery. You can opt for AMACO F Lead-Free Non-Toxic Glaze to provide an opaque finish to the underglaze decorations of your pot. Such glazes comprise of kaolin, feldspar, silica, boron frits, talc, and other such materials that are comparatively safer.
Hence, painting the ware with color as a slip and later putting a coat of transparent colorless glaze on it makes the pottery food-safe yet attractive. So, always make sure that the decorations are made beneath the glaze of the pottery and not the above.
Check the ability to withstand acidic foods and alkaline washes:
To know if your pottery can stand with the acidic foods and alkaline washes or not, you need to follow a few simple steps. If the pottery is acidic food-safe or alkaline dishwasher-safe, then the glaze on it is less likely to be prone to leaching.
Here is how you can check if your pot passes through the corresponding acidic food-safe and alkaline dishwasher tests.
| | | | |
| --- | --- | --- | --- |
| Tests | Ingredients | Process | Result |
| Acid Test | A slice of lemon or vinegar | Squeeze a piece of lemon onto the top of the glaze and leave it overnight. Or put some vinegar onto the surface of the glaze and leave it for 3-days. | If the color of the glaze slightly differs or changes from the original one, then it has the risk of leaching. |
| Alkaline Dishwasher Test | 50 gms of soda ash and 1 liter of water | Mix the 50 gms of soda ash with 1 liter of water and bring it to the boiling point. Then, soak the pottery you want to test in the mixture and simmer it for 6 hours by covering it. | If the color changes after the test, then it's not dishwasher safe, and the glaze is prone to leaching. |
Check if your pottery is microwave proof or not
Besides cracking and melting in the microwave, dangerous chemicals may leak out from the non-microwaveable pottery utensils, which might pose a potential risk to your health. So, always check if the crockeries are microwave proof or not.
Perform a test to know if the clay pot or dish is microwave proof or not by soaking it into the water, and after that, putting it into the oven. Metallic over-glazed potteries are not meant for being microwave proof. So, if you put it into the microwave oven, then the utensil is definitely going to crack. Otherwise, if the glaze of your pottery is tightly fit, then such clay pots are suitable to use in the microwaves.